If you want some great grilling recipes to try out on your Traeger, you're in the right place. Here are some of our favourite Traeger grilling recipes for cooking hot and fast on your wood pellet grill.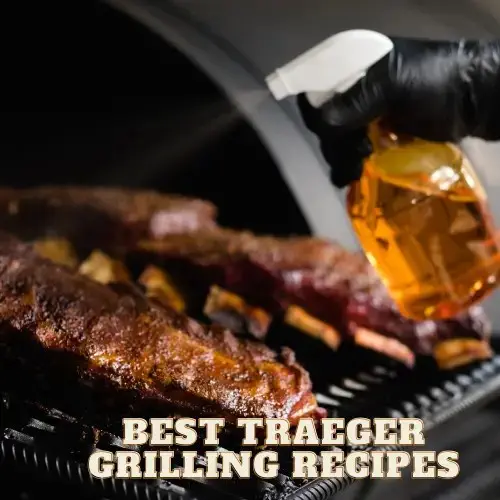 10 Best Traeger Grilling Recipes to Try Today
1 Grilled Traeger Tomahawk Steak
Your Traeger grill is great for smoking low and slow, but also equally good at cooking quickly at high temperatures. Steak is always great for quick grilling because it can be served at a much lower internal temperature than chicken and pork.
This great recipe for Ribeye Tomahawk steak with garlic butter sauce is guaranteed to be the star of any backyard show.
You don't really need to do too much to this magnificent cut of meat, just add salt and pepper and get it on the Traeger grills.
https://www.savorynothings.com/grilled-tomahawk-steak/
2 Traeger Grilled Pizza
Traeger grills are great for more than just BBQ fare. One of the best Traeger grilling recipes to try is grilled pizza. Your Traeger grill is great for adding that delicious wood-fired flavour.
The process is very simple – you start by preheating your Traeger grill to 450 degrees Fahrenheit. Roll out your pizza dough and top it with your favourite sauce, cheese, and toppings.
Place it directly on the grill grates and cook for 8-10 minutes, or until the crust is golden brown and the cheese is melted.
Try this article from Traeger themselves about grilling pizza.
https://www.traeger.com/learn/how-to-grill-pizza
Traeger grills are a popular choice among outdoor cooking enthusiasts, and for good reason. These wood pellet-fired grills offer a unique and delicious way to cook a variety of foods. Here are some of the best Traeger grilling recipes to try out on your next backyard cookout.
3 Traeger Grilled Pork Ribs
Ribs are a classic backyard BBQ staple, and Traeger grills are the perfect tool for grilling them to perfection.
Smoking a rack of ribs can take up to 6 hours, but if your grills are hot enough you can grill them in around 20-30 minutes, brushing them with sauce and turning them so they cook evenly.
If you want even quicker grilling times get baby back ribs rather than spare ribs which are bigger, fattier and take longer to cook.
https://www.bbcgoodfood.com/recipes/sizzling-spare-ribs-bbq-sauce
4 Traeger Grilled Vegetables with a Lemon Herb Vinaigrette
Traeger grills are great for cooking vegetables, too. Try this recipe from Traeger themselves for snow peas, carrots, squash and peppers.
The lemon and herb vinaigrette is zesty, delicious and easy to make. Even better, it only takes 10 minutes to grill the veg!
https://www.traeger.com/recipes/vegetables-lemon-herb-vinaigrette
5 Grilled Chicken Kabobs on the Traeger
Chicken kabobs (or kebabs in the UK) are a quick and easy meal to grill on your Traeger over high heat.
All in all, it will only take you about 20 minutes to cook your chicken hot and fast on your wood pellet grill.
This recipe for grilled chicken also shows you how to make your own garam masala and homemade flatbreads.
6 Traeger Grilled Lamb Chops
Lamb chops are an elegant cut of meat that can be grilled to perfection on a Traeger grill.
This easy, quick and delicious recipe is served with a fantastic herby rosemary sauce.
You only have to grill the lamb chops for 4-6 minutes per side, or until they reach an internal temperature of 145 degrees Fahrenheit, then let them rest for a few minutes before serving.
https://www.traeger.com/recipes/lamb-chops-rosemary
7 Grilled Pork Tenderloin
Pork tenderloin is a bit of an underrated meat for a lot of people. That being said, it's actually a really delicious and inexpensive cut of meat that can be grilled to the point of perfection on your Traeger grill.
It will only take around 15 minutes to grill the pork to an internal temperature of 145F.
You can follow the process with this video on our Instagram. Feel free to follow, like and comment!
8 Juicy Lucy Stuffed Cheese Burger
If you haven't heard of a Juicy Lucy burger, it's a burger that originated in Minnesota where the patty is stuffed with cheese on the inside, rather than the cheese being placed on the top.
It gives you a delicious burger with oozy, gooey, melty cheese in the middle and it's a great recipe to cook on your Traeger grills.
We also have a video on Instagram showing you how to make a Juicy Lucy stuffed burger.
9 Grilled Jamaican Jerk Halibut Steaks
For something a little out of the ordinary, you definitely have to try this Traeger recipe for Jamaican Jerk halibut.
It will only take 15 minutes to grill this delicious fish, and a very short time to marinate it in the Jerk flavours and seasonings.
It also comes with an easy but flavoursome Pico de Gallo on the side.
https://www.traeger.com/recipes/jamaican-jerk-halibut-pico-de-gallo
10 Grilled Chile Chicken Thighs Traeger Recipe
Finally, here is a tasty, spicy Traeger grill recipe that cooks in around 35 minutes and will set your tastebuds tingling.
It comes with a wonderful spicy honey garlic sauce.
https://www.traeger.com/recipes/chile-chicken-thighs
If you enjoyed this article you might also like this one.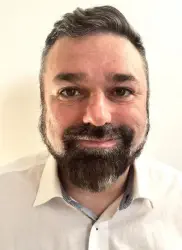 Latest posts by BBQ Smoker Grill Hub
(see all)