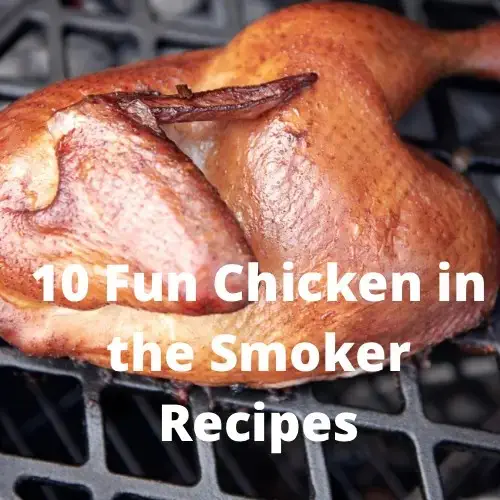 Looking for chicken in the smoker recipes? These recipes are a lot of fun to make, and even more fun to eat.
These are some of the best smoking recipes for chicken, hands down. They are tried, tested, and tasty BBQ smoker recipes.
They are also pretty easy and suitable smoking recipes for beginners.
Temp for Smoked Chicken
We are aiming for a target temperature of 165°F for smoked chicken, whether it be chicken breast, chicken thighs, chicken wings or chicken drumsticks. Always aim to test the temperature with a internal meat thermometer at the thickest part of the meat.
This is a classic recipe for chicken wings with homemade Buffalo Hot Sauce. The sauce is buttery, vinegary, spicy and far better than any store bought hot sauce.
You smoke the chicken wings slow and low at 250°F for 2-3 hours. 
Ingredients for the Hot Sauce
8 tablespoons of Butter
½ cup or 8 tablespoons of Tabasco Sauce (you can also substitute Frank's Hot Sauce or Louisiana Hot Sauce) or to taste if you like it milder
1 teaspoon Smoked Paprika 
½ teaspoon Garlic Powder
1/2 Teaspoon Chilli Powder (we like Extra Hot Chilli Powder but to taste) 
2 tablespoons Apple Cider Vinegar 
1 teaspoon Worcester Sauce
Salt and pepper to taste
Warning – highly addictive.
Chicken thighs are cheap but moister than the more popular chicken breasts. Plus you get plenty of meat on them, compared to wings or drumsticks.
This classic but simple smoking recipe involves a delicious dry rub and smoking the thighs at 250°F for around 2 hours. 
You can brush the thighs with BBQ or Hot Sauce for the last 15 minutes of the smoke.
Dry Rub For Chicken Thighs
2 teaspoons onion powder
1 tablespoon chilli powder
1 tablespoon smoked paprika
1 tablespoon fine sea salt
1 tablespoon freshly ground black pepper
1/2 teaspoon dried oregano
4 tablespoons brown sugar
2 teaspoons garlic powder
This simple classic involves cooking a whole chicken in the smoker for between 4-6 hours at 225°F. 
You need to try it at least once in your life.
The sweet, salty, slightly spicy rub with the flavours of wood and charcoal make this smoked whole chicken heavenly.
The dry rub ingredients are the same as the previous chicken thighs recipe.
If you have never used cherry wood to smoke with before, you'll be pleasantly surprised at the mild fruity smoke flavour it imparts.
This a short and easy smoke but still very flavoursome. The Pico de Gallo is absolutely delicious as well.
For the Smoked Chicken
6 (10 inch) flour tortillas
1 pound shredded pepper Jack cheese
  cherry wood chips, pre-soaked in water
  3 boneless & skinless chicken breasts
Pico De Gallo Ingredients
5 finely chopped Roma tomatoes
½ finely chopped white onion
3 tablespoons finely chopped cilantro/coriander
½ finely chopped jalapeno pepper
½ teaspoon garlic salt
This is a delicious sweet, smoky and spicy dish with a unique taste. 
You cover the breasts in a dry rub and smoke them at 250°F for around 3 hours.
You brush the chicken with maple syrup every hour, and then at the end of the smoke as well.
A very satisfying smoke using hickory or maple wood. 
Ingredients For Maple Chipotle Smoked Chicken
4 skinless & boneless chicken breasts
1 teaspoon garlic powder
1 teaspoon onion powder
2 teaspoon chipotle powder
1 teaspoon salt
1/2 teaspoon black pepper
1/3 cup maple syrup (more for basting)
Most people think of pulling meats like pork or beef, but chicken is also a fantastic option. It's also less fatty than pork. 
This recipe involves marinating a whole chicken cut in two for around 8 hours in garlic, yoghurt, salt, pepper, lemon juice, cumin and paprika.
The 2 halves are then smoked with cherry wood at a medium high heat for up to 50 minutes or so. It's a short smoke but it leads to delicious, flavourful pulled chicken.
It can be served in a bun like pulled pork or added to curries, stews, or pasta if you like.
Chicken leg quarters are inexpensive and perfect for smoking slow and low. 
This recipe has a tasty spice rub for the chicken and calls for basting with your favourite BBQ sauce. Perfect for almost all occasions!
You smoke the chicken leg quarters slow and low at 225°F for around 3 hours until the internal temperature of the chicken is 165°F.
Dry Rub
½ tablespoon of garlic powder
2 tablespoons of dried oregano 
1 tablespoon of smoked paprika
1 tablespoon of cumin
2 tablespoons of salt
½ tablespoon of ground black pepper
½ tablespoon of coriander
This delicious recipe is for the heat lovers out there. 
It involves spatchcocking the chicken, and if you don't know how to do this watch the video or get your butcher to do it for you.
Spatchcocking the chicken means you can get all those Korean BBQ flavours inside and outside the meat.
It also means that it cooks more quickly and evenly.
You smoke the chicken for around 1 and a half – 2 hours at 275°F, basting it occasionally and then searing it at the end.
You end up with a red, crispy bird that packs some heat. 
It's a real showstopper.
For this recipe you will need:
1/4 cup Gochujang (Korean Chilli Paste)
1 tsp sesame oil
3 tablespoons orange juice
1 tablespoon soy sauce
1 tablespoon of rice wine vinegar
1/4 tsp salt
2–3 lb chicken
This is really fun and creative inclusion that many of us won't have tried or thought about before.
The Chinese style rub is a great and different take on smoked chicken.
You cover a whole chicken in the rub, stuff it with scallions and ginger and marinate it for at least 4 hours.
Then you put a wire rack in your wok, add water to the bottom of the wok and when there is plenty of steam and heat put the chicken on the rack.
At a medium high heat it will take around 40 minutes or so for a 1.5kg bird for this first part of the cook.
In a separate wok you heat brown sugar, loose tea leaves and rice until they are smoking.
For the final 10 minutes or so you add the chicken on the wire rack to take on those smoky flavours.
It's a lot of fun and pretty straightforward to do!
Chinese Style Chicken Rub
4 teaspoon salt
½ star anise 
¼ teaspoon fennel seeds
1 teaspoon Sichuan pepper
½ teaspoon raw sesame seeds
Chicken in the Smoker Recipe 10 – Vietnamese Smoked Chicken
Our final favourite and fun chicken in the smoker recipe is Vietnamese smoked chicken.
The flavours of lemongrass, chilli, coriander, lime and ginger along with the smoky taste are really something super special.
The process involves marinating 2 whole halved chickens in a flavourful marinade overnight.
2-3 hours before cooking you add the lime juice.
Then you smoke the chicken halves in the smoker at 225°F until the internal temperature reaches 165°F.
The recipe recommends a Pitbarrel Smoker but you can use whatever you have.
Vietnamese Smoked Chicken Marinade

1/2 cup low sodium soy sauce

1/2 cup fish sauce

1/2 cup dark brown sugar

2 tablespoons of grated and peeled ginger

5 tsp Sambal Oelek (similar to Sriracha sauce but without sugar)

3 limes, juiced (add in 2-3 hours before cooking)

zest of 2 limes
4 tablespoons finely chopped lemongrass 

7 finely chopped cloves garlic

4 tablespoons of finely chopped cilantro/coriander

2 finely chopped Fresno chilli peppers

2 Thai chilli peppers

4 tbsp. olive oil
If you enjoyed this article have a look at 'Smoker Recipes for Chicken.'
Or our classic 'Smoked Chicken Breast Recipe.'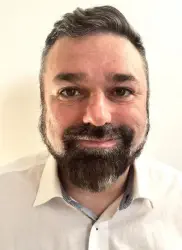 Latest posts by BBQ Smoker Grill Hub
(see all)