Smoked salmon is a delicious and straightforward way to prepare fish, and it's easy to do with a Pit Boss smoker.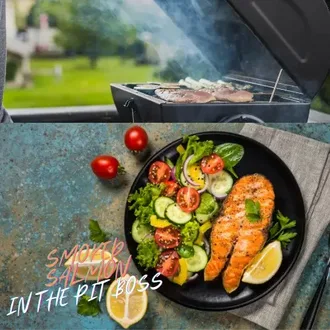 How to Smoke Salmon to Perfection in a Pit Boss Smoker
Here's how to smoke salmon in a Pit Boss smoker step by step.
1 Start by Brining the Salmon Fillet
To brine the salmon, mix together 1 cup of water, 1/ 2 cup of brown sugar, and 1/2 cup of salt in a large bowl until the sugar and salt are dissolved. Place the salmon in the brine, making sure it is completely covered, and refrigerate for at least 4 hours or preferably overnight.
Step 2 Prepare the Salmon
Once the salmon has finished brining, remove it from the brine and pat it dry with paper towels.
Using a pair of tweezers remove any visible pinbones from the salmon fillet.
Place the salmon on a wire rack and let it sit at room temperature for around an hour. This will allow the surface of the salmon to dry out a little, which will help it to develop a nice, crispy crust when it is smoked in the Pit Boss smoker.
Step 3 Preheat the Pit Boss
While the salmon is sitting at room temperature, preheat your Pit Boss smoker to 225°F by turning it on, using the Smoke (S) setting and placing your wood pellets of choice in the hopper.
Give it around 10 minutes or so to burn off with the lid open to get rid of any ash or unwanted chemical leftovers.
If you are using your Pit Boss smoker for the first time you will need to give it around an hour to smoke with the lid open to burn off any residual chemicals from production. It's also a good idea to season the grills with an oil with a high smoke point and neutral taste such as canola, avocado or peanut oil.
Fish is more delicate than meats so don't use a wood that could overpower it, such as hickory or mesquite. Apple, cherry, alder, oak, maple or pecan are all good choices. You might like to experiment with a mix of 2 or more wood pellets.
Step 3 Apply the BBQ Rub
Dust the salmon liberally with your favourite BBQ fish rub. We like to use Firefly Mississippi Master rub for fish. If you would like to make your own homemade rub for salmon, combine the following ingredients together in a bowl and mix well.
Homemade BBQ Rub for Smoked Salmon
1 teaspoon ground cumin
1 tablespoon chilli powder (mild if you don't like heat or hot if you do)
2 tablespoons brown sugar
1 teaspoon fine sea salt
1 teaspoon freshly ground black pepper
Step 4 Smoke the Salmon for 2 Hours
When the Pit Boss smoker is preheated to 225F place the salmon in the smoker, skin side down.
Smoke the salmon fillet for about 2 hours, or until the internal temperature reaches 145°F.
Once the salmon is done smoking, remove it from the Pit Boss grill and let it rest for a few minutes. Then, serve it up and enjoy!
There you have it! Smoking salmon in a Pit Boss smoker is easy, and the result is a delicious, flavourful fish that is perfect for any occasion.
Whether you're serving it as a main course or as an appetizer, smoked salmon is sure to be a hit with your friends and family.
If you would like to smoke a whole salmon rather than a fillet, you might enjoy this recipe.
If you would like to smoke your salmon on the Traeger Pellet Grill with a dill and lemon compound butter, try this one.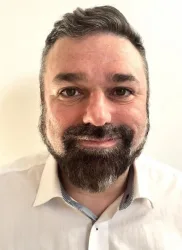 Latest posts by BBQ Smoker Grill Hub
(see all)