This smoker recipe for salmon is light, juicy, crumbly and delicious. 
Not to mention wonderfully smoky and sweet.
Here is our tried and tested recipe for how to smoke a salmon.
This will feed 6-8 people depending on appetites and side dishes.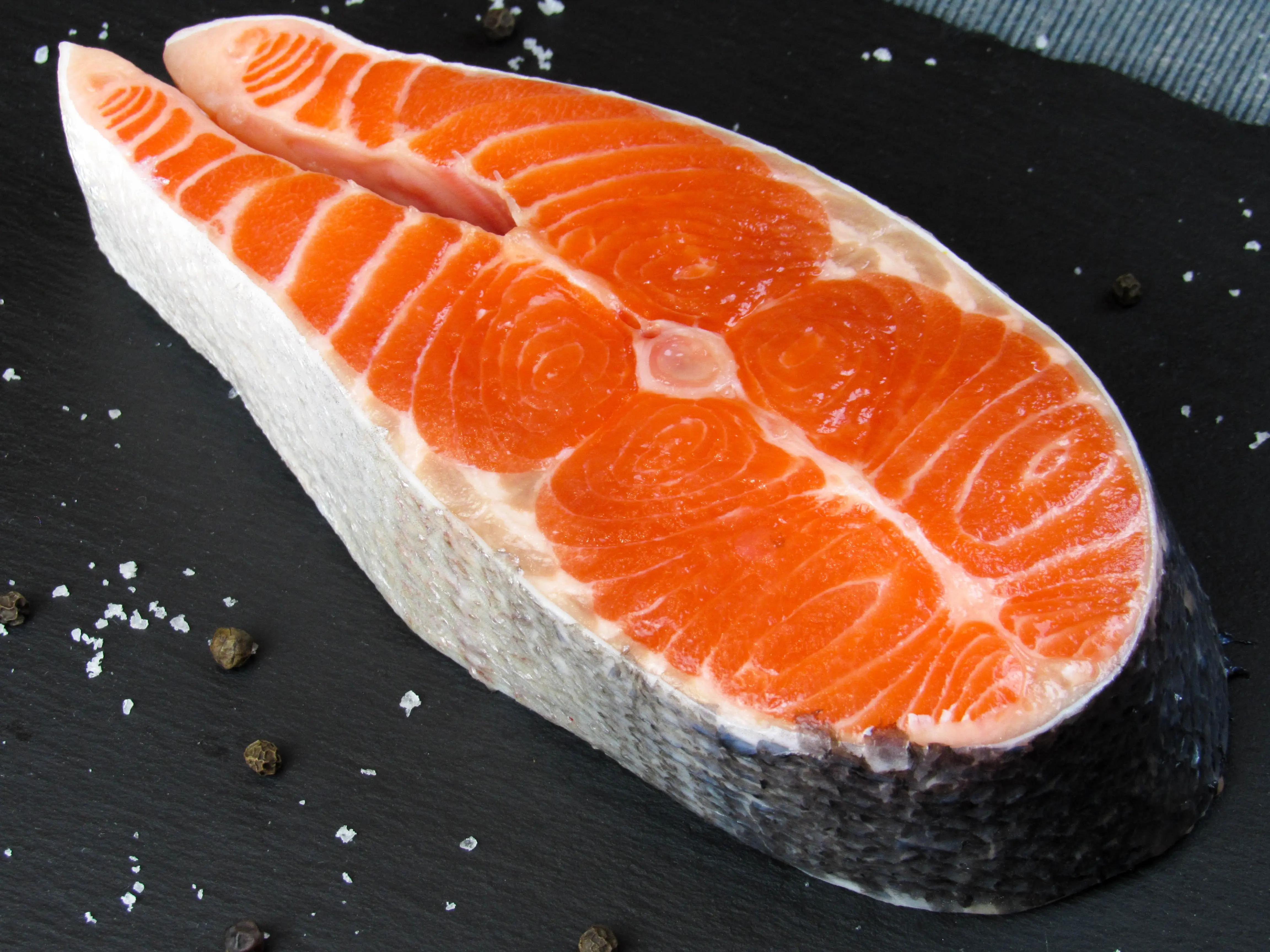 Smoker Recipe for Salmon Part 1 – Preparing Your Salmon
The best place to get a good quality whole salmon is from a fishmonger.
You can also find out what kind of a life the fish had by asking a few important questions. 
If it is a farmed salmon it will likely have more fat because it won't have had to work as hard as a wild salmon.
More fat means you will have a juicier, moister fish after smoking it, so it may suit you to go for a farmed one.
A wild salmon will be a little tougher as it will have more muscle and less fat.
Either way make sure you get your fishmonger to fillet the fish for you, and to remove as many bones as possible. 
This will save you a lot of time and hassle with a pair of tweezers later.
When you are ready to prepare the salmon, pat it dry with kitchen paper. Have a last look for any bones that your fishmonger might have missed.
Remove them with tweezers if you need to. 
To make sure we get extra crispy skin and get the flavour of the rub deep into the fish, we are going to score the skin with a knife.
You want to make your cuts close together and score the whole way along the fillet. 
Scoring the salmon fillet like this stops it from curling when cooking and makes sure it is cooked evenly.
Smoker Recipe for Salmon Part 2 – Make the Rub
Dry Rub For Smoked Salmon
1 teaspoon ground cumin
1 tablespoon chilli powder (mild if you don't like heat)
2 tablespoons brown sugar
1 teaspoon fine sea salt
1 teaspoon freshly ground black pepper
Add all the ingredients together in a bowl and mix well. 
Brush your salmon fillet all over with some Dijon mustard to give the rub something to stick to. If you don't have mustard a little honey can work too.
Using your hands spread the rub all over the salmon, making sure to get into all the scores in the skin, and both sides of the fillet.
Smoker Recipe for Salmon Part 3 – Smoke the Salmon
Set your fish on to the grills of your smoker skin side down, away from direct heat and any flames.
Smoke your salmon for 3-4 hours, at 110°C or 225°F until it reaches an internal temperature of 140°F.
We like to use apple or cherry wood with fish, or a half and half mix of both. 
As ever we cook to temperature and not exact timings. No two smokes are ever exactly the same.
When we leave it to rest the internal temperature will rise by 5 to 145°F which is the final temperature we need for smoked salmon.
If you let it get to 145°F on the smoker the internal temperature will be 150°F and overcooked.
You'll need to check on your salmon every hour to make sure it isn't getting too dry. Brush it with lemon juice or a little honey to keep it moist. 
You may also need to refuel or add more wood, depending on your smoker.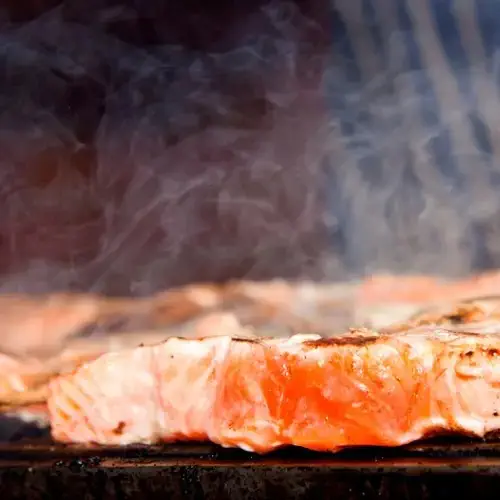 Smoker Recipe for Salmon Part 4 – Rest the Salmon
Cover your salmon with foil and allow it to rest for at least 20 and up to 30 minutes. This is an important step as it lets the fish warm up another 5 degrees, relaxes the muscles and redistributes the juices across the fish.
Smoker Recipe for Salmon Part 5 – Serve
Now you can cut your salmon into thin slices and serve.
As a rough rule of thumb you can aim for around half a pound of fish per person, depending on appetites and side dishes. 
You could serve this with baby boil potatoes with chopped mint and butter.
You could even put it in a bagel with cream cheese and little chopped dill.
You could also go for a potato salad or a light green salad. 
You might also like to try our Pasta Salad Recipe with homemade pesto here:
https://bbqsmokergrill.org/pasta-salad-recipe/
If you enjoyed this article try our 'How to Smoke Brisket Recipe.'
https://bbqsmokergrill.org/how-to-smoke-brisket/
Or perhaps our 'Smoked Burger recipe.'
https://bbqsmokergrill.org/smoked-burger/
Or our Smoked Shrimp Recipe.
https://bbqsmokergrill.org/smoked-shrimp/
For another great article on Smoked Salmon try here:
https://saltpepperskillet.com/recipes/smoked-salmon/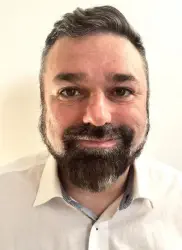 Latest posts by BBQ Smoker Grill Hub
(see all)