Need a recipe for leftover pulled pork? What better way to use it up than a pulled pork pizza?
Have a look at our pulled pork in the smoker recipe if you need a recipe for smoked pulled pork to start with.
This pulled pork recipe also comes with a delicious apple cider BBQ sauce that you can put on your pizza as well.
Mushrooms and sweetcorn or bell peppers are also great additions.
Top tips – make sure your pizza oven has at least 10 minutes to get up to temperature (450-600F) for best results. Your pizza stone needs to be hot enough to cook the underside of the dough.
Keep the pizza moving around every 30 seconds or so for even cooking.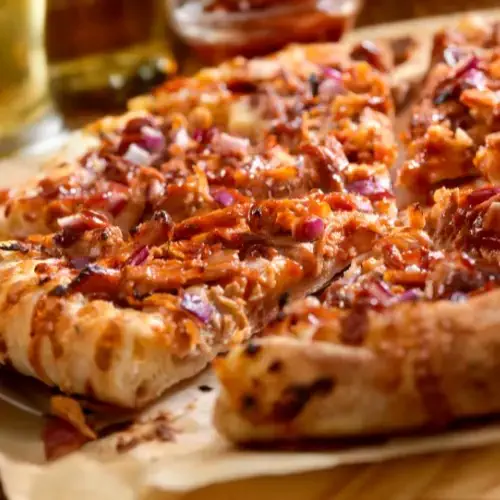 Pulled Pork Pizza Recipe
If you want to make your pizza base from scratch you only need 4 simple but powerful ingredients for perfect pizza dough everytime.
1 KG or 2.2 lbs of Tipo OO Pizza Flour
600ml of warm water (200ml boiled water & 400ml cold water is perfect here)
7g Dried Yeast
4 Teaspoons of Salt
Mix the water yeast and salt together in a bowl separately, stir and leave for 2-3 minutes. Put the flour in a large bowl and slowly pour in the water, yeast and salt mixture.
Knead for around 10 minutes, until you have a smooth, large ball of dough.
Cover and leave to rise for at least an hour to warm prove, or preferably for 1-3 days in the fridge to cold prove for best results.
Preparing Pulled Pork Pizza
For best results always hand stretch your pizza dough. If you want a thin and crispy pizza using a rolling pin works, but if you like a light, airy crust like we do always stretch with your hands. See the video below to help you with your technique.
Easy and Elegant Pizza Sauce
1 Can of Plum Tomatoes – San Marzano Tomatoes if you can get them
3-4 Large Fresh Basil Leaves
1 Clove of Fresh Peeled Garlic
A Splash of Good Quality Olive Oil
A Teaspoon of Freshly Squeezed Lemon Juice
Salt and Pepper to Taste
Whizz up in the blender until smooth.
Apple BBQ Sauce
1 ½ cups of ketchup
1 cup of apple juice
⅓ cup of apple cider vinegar
¼ cup of light brown sugar
2 tablespoons of molasses or black treacle
1 tablespoon of freshly cracked black pepper
1 tablespoon of garlic powder
1 tablespoon of onion powder
1 teaspoon of ground coriander
1 finely chopped jalapeno pepper
Combine all the ingredients in a medium hot pan and bring to the boil. Simmer for 10-15 minutes until the ingredients have combined and the sugar is fully dissolved.
Remove from the heat to cool while you prepare your pizza.
Pulled Pork Pizza Toppings
Now it's time to add your pizza sauce, apple BBQ sauce, pulled pork and optional sweetcorn, mushrooms or peppers to your pulled pork pizza. Make sure your pizza peel is suitably floured and your pizza moves back and forward easily – you don't want it to stick before you place it in the oven.
Pulled Pork Pizza in the Pizza Oven
Place your pulled pork pizza in a hot pizza oven (around 450-600F) on a hot pizza stone for best results.
Depending on your pizza oven, you may need to rotate your pizza around every 10-30 seconds so that your crusts don't catch fire. A little charring is great, but no-one wants burnt and blackened pizza crusts.
Due to the high heat your crusts should rise quickly – make sure you keep a constant eye on them. Crispy pulled pork, crusts and bubbly cheese is great here, but you don't want to blacken or burn anything on your pizza.
Serving Your Pulled Pork Pizza
Once you are happy your pulled pork pizza is fully cooked, place it on a wooden board. If you like to add extra Parmesan cheese now is the time to do it. Adding a twist of freshly cracked black pepper, a 1/2 teaspoon of dried Oregano and maybe some dried chilli flakes are optional but wonderful if that's your thing.
If you enjoyed this pulled pork pizza recipe you might get a kick out of these articles too:
Try this article for further ideas on pulled pork pizza.
https://spicysouthernkitchen.com/southern-bbq-pizza-with-pulled-pork/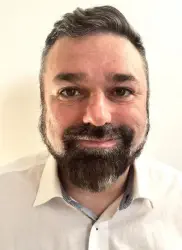 Latest posts by BBQ Smoker Grill Hub
(see all)