If you don't have the time or leisure to smoke ribs in the smoker, you'll love this easy slow cooker pork ribs recipe.
You can still get that lovely fall off the bone tender pork ribs using a crockpot or slow cooker.
If you finish them off at a high heat in the oven you can even get a nice crispy char.
The best thing about the slow cooker is the convenience of it. You can simply set your crockpot on high and leave the ribs in there while you go about your day.
Slow Cooker Pork Ribs Recipe
Steps
1 Make the BBQ Dry Rub
1 tablespoon smoked paprika
1 teaspoon garlic powder
1 teaspoon onion powder
1 teaspoon ground cumin
1 tablespoon fine sea salt
1 teaspoon freshly cracked black pepper
3 tablespoons of brown sugar
Add all the ingredients into a small bowl and mix to combine.
If you would like to use a storebought BBQ rub we would definitely recommend Meat Church Honey Hog BBQ Rub.
2 Prepare the Slow Cooker Pork Ribs
We used Babyback ribs for this recipe, but feel free to use spare ribs (which are larger and fattier). You can also use beef ribs, but just make sure your slow cooker is large enough.
Use a little maple syrup as a binder for the rub to stick to. Rub it all over the rib rack – top bottom and sides.
Cover the ribs all over in the dry rub, coating as evenly as possible. See the video below to help.
Cut your rib rack neatly into 2 halves as shown below (otherwise it won't fit in the slow cooker).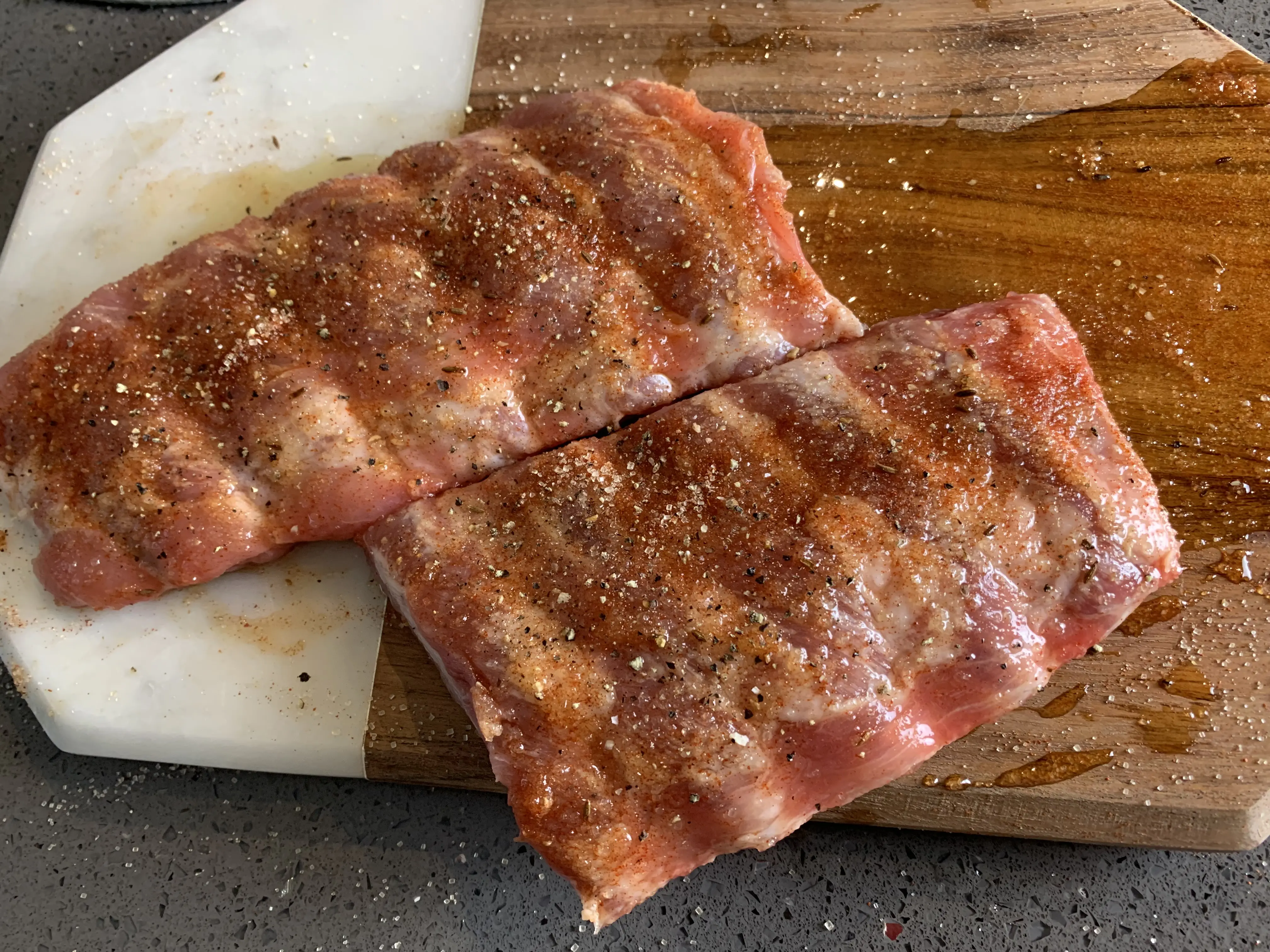 3 Place the Ribs into the Slow Cooker for 3-5 Hours
Put your ribs into the slow cook 1 half at a time, covering each half rib rack in your favourite BBQ sauce. We like Sweet Baby Ray's Original BBQ Sauce or Heinz BBQ sauce.
Add a little butter, a splash of water (or chicken broth/stock), a splash of Worcestershire sauce, a splash of apple cider vinegar, and you are good to go.
Optional – if you like a little heat add in Frank's Red Hot Sauce or your favourite hot sauce.
We used Cholula Chipotle Hot Sauce for this recipe, to add a little extra heat and smokiness.
4 Place the Ribs in a Hot Oven to Crisp Up
Depending on how you like your ribs (we like them fork tender) you may want to cook them for less time (more like 3 hours rather than 5) – the longer you slow cook them the more melt in your mouth and fall off the bone they will be.
You can eat your ribs as is, but if you like a bit of crisp and char on your ribs place them in the oven for 10 minutes at 400F or 220C.
You can keep all that lovely leftover sauce to serve with the crisped up ribs afterwards.
If you'd like to see the whole process have a look at the post on Instagram. Tag us if you tried the recipe!
Recipe Notes For Slow Cooker Pork Ribs
Do I Need Liquid in the Slow Cooker for Ribs?
You could definitely put just the ribs in the slow cooker, and the ribs won't burn because the heat is fairly gentle. The ribs themselves also release liquid anyway.
It's probably best to cook the ribs this way if you want to serve the sauce on the side.
How Long Should You Cook Ribs in the Slow Cooker For?
It depends whether you look your ribs to be fork tender or a little firmer. If you are slow cooking on high fork tender ribs take around 4-5 hours. If you like ribs firmer 3 hours should be long enough.
Do I Have to Finish Off Slow Cooker Pork Ribs in the Oven?
If you don't mind your ribs being moist and tender but not crispy, it's fine to leave out this final step. Some people complain ribs are mushy when they haven't been crisped up.
If you'd like to read about how to smoke ribs in the smoker try this article.
Related Articles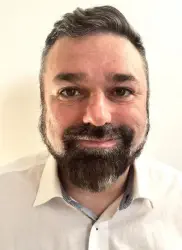 Latest posts by BBQ Smoker Grill Hub
(see all)