If you are looking for a great sweet and sour chicken air fryer recipe perfect for a Chinese fakeaway then this recipe is just for you.
Sweet and Sour sauce can be gloopy, thick and unappealing at times, but this recipe produces a knockout sauce with just the right amount of texture, using fresh peppers and pineapple chunks. Using cornflour or cornstarch to coat the chicken balls makes for a light batter which really works well in the air fryer.
You can make your fried rice and sweet and sour sauce quickly while your chicken cooks! It's easy but really delivers on flavour without that nasty, unhealthy MSG that some takeaway restaurants include.
For the fried rice just make sure to boil the rice the day before and leave it in the fridge overnight – freshly boiled rice can make your fried rice have a mushy and unpleasant texture.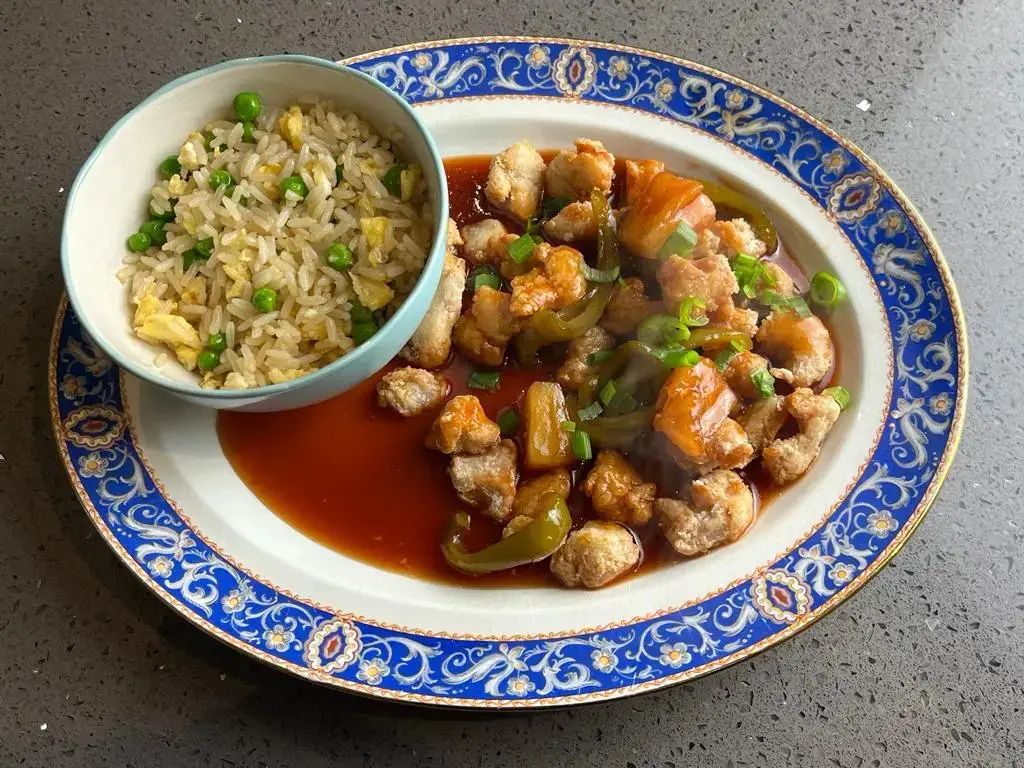 Sweet and Sour Chicken Air Fryer Recipe
Air Fryer Sweet and Sour Chicken Balls
For our sweet and sour chicken balls we are going to make a light batter using cornflour (cornstarch). If you want a slightly heavier batter you can dip the chicken in a beaten egg before rolling it in cornflour.
Ingredients
Chicken breast or thighs cut into bite sized pieces
1 cup of cornflour (cornstarch)
1 teaspoon of Chinese 5 Spice
1/2 teaspoon garlic salt
Optional – a little chilli powder
Place the cornflour (cornstarch) in a bowl, add the garlic salt and the Chinese 5 spice (and the chilli powder if using). Toss the pieces of chicken in the seasoned flour.
Place some baking parchment in the bottom of your air fryer (this helps to ensure even coating of the oil on the chicken pieces and avoid mess). Spray your chicken with a light olive oil or groundnut oil and cook in the air fryer for around 12-15 minutes at 200C or 392F.
While the chicken is cooking we can make our own Sweet and Sour sauce and homemade fried rice.
Easy Homemade Sweet and Sour Sauce
This easy homemade sweet and sour sauce is made from fresh ingredients and is the perfect balance between being too thick and gloopy or too thin and tasteless. Unlike some of the gloopy sauces full of MSG that you might find in a Chinese takeaway, it is made from fresh vegetables and fruit.
Ingredients
100g or 2/3 cup of sugar (if you are trying to lose weight use a low calorie sugar substitute such as Stevia)
1/2 tin of fresh pineapple chunks plus juice
3 tablespoons of Tomato Ketchup
5 tablespoons of white wine vinegar or rice wine vinegar
2 tablespoons of soy sauce
1 roughly chopped green bell pepper
Add the green pepper to a medium hot pan with some groundnut oil and cook for a couple of minutes until it is beginning to soften. Add the sugar and allow 2-3 minutes for it to caramelise (don't let it burn).
Add the 1/2 tin of pineapple chunks along with around 2 tablespoons of the pineapple juice. Next add the vinegar, the ketchup and the soy sauce and leave to simmer while you make your fried rice.
Homemade Egg Fried Rice
Ingredients
1 tablespoon of Groundnut Oil
1 cup or 250g of white rice cooked the day before and left in the fridge
3 beaten eggs
1 cup or 250g frozen peas
1 teaspoon Sesame Oil
1 teaspoon Soy Sauce
Heat a pan filled with 1 tablespoon of groundnut and then add the eggs. When the eggs are almost set add your cooked cold rice to the pan. Fry the rice and move it around the pan to break up the eggs into pieces. Add the peas, Sesame oil and the soy sauce and fry until golden – around 5minutes.
By now your chicken should be cooked in the air fryer. To serve place your battered chicken balls onto 2 plates and generously pour over the sweet and sour sauce. Divide your egg fried rice between the 2 plates.
Optional – garnish your delicious sweet and sour chicken and fried rice with finely chopped scallions.
Tuck in and enjoy your own awesome Chinese fakeaway!
You can watch the whole process on our Instagram video below:
Air Fryer Sweet and Sour Chicken Balls Healthy Version
A healthy version of Air Fryer Sweet and Sour Chicken Balls will mean using cornflour only for a light batter (as opposed to egg mixed with plain flour which makes a heavier sometimes claggy batter) as well as using a light oil spray for fewer calories.
You could also substitute sugar in the sweet and sour sauce with a low calorie sugar substitute such as Stevia.
Air Fryer Sweet and Sour Chicken Frozen
You can cook frozen chicken in your Air Fryer if you like, but you will need to cook them for around twice as long at a higher heat of at least 400F or 204C and make sure that the internal temperature in the chicken is at least 165F or 74C.
If you enjoyed this article or tried it out for yourself at home, let us know in the comments below or share it on your favourite Social Media.
For more air fryer recipes try our Air Fryer Baked Potato Pizza article or our Mac and Cheese Bites in the Air Fryer post.
You might also enjoy this article for some further ideas for air fryer recipes.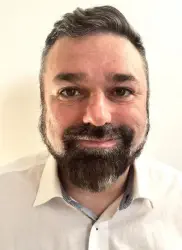 Latest posts by BBQ Smoker Grill Hub
(see all)