For plenty of ideas about the best things to smoke on a pellet grill, read on. Some of these ideas are classic, some are a bit more unique but they are all great things to smoke on your pellet grill.
Whether you have a Traeger, Pit Boss, Z Grills etc you have so many great options of things to smoke – from vegetables to meats and from appetizers to desserts.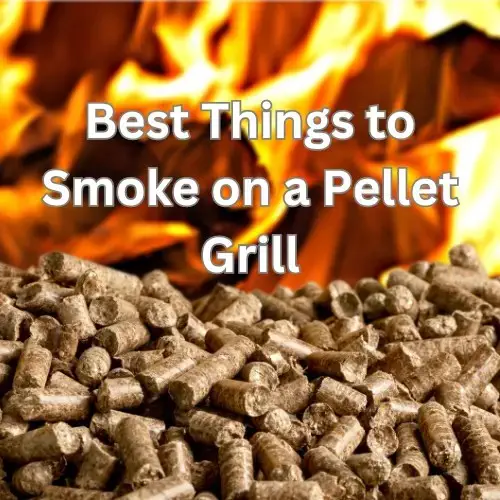 Best Things to Smoke on a Pellet Grill
Easy Traeger Pulled Pork with Cider Brine
One really great way to impart flavour into smoked meat is to use an overnight brine. This great cider brine will help your pulled pork taste even better.
Pulled pork is one of the best meats to smoke despite how long it takes.
Ingredients
6 Cups Good Quality Apple Cider
1/2 Cup Salt
1/2 Cup Sugar
2 Cups Apple Cider Vinegar
3-4 Whole Peeled Cloves of Garlic
Optional – bunches of fresh rosemary, sage or thyme
Dissolve the ingredients in a medium hot pan and then allow to cool. Place in a container with your pork shoulder and leave it overnight in the fridge or cooler.
The next day you can pat the pork dry and smoke it at 250F or 121C until it reaches 203-205F or 95-96C. You'll need to wrap the pork tightly in tinfoil for the second stage of the smoke once the pork has reached an internal temperature of 165F or 74C.
Smoked Lobster Tails With Garlic Butter
Smoked lobster tails basted with homemade garlic butter are decadent and delicious, not to mention one of the best quick smoker recipes. This recipe calls for 3 lobster tails but use as many as you need to feed your guests or family.
Make your basting butter by combining the following ingredients in a small saucepan:
1/2 Cup of Salted Butter
3 Cloves finely chopped Garlic
1 Tbsp of Lemon Juice
1/4 tsp of freshly cracked Black Pepper
1/2 tsp Dried Parsley (or freshly chopped)
Prep the lobster tails by cutting down the middle of the shell with a sharp pair of scissors. Carefully pull the lobster meat out of the shell to sit on top. Get your smoker up to 225F or 107C and place the lobster tails inside, closing the lid of the smoker down.
Baste the lobster tails with the butter every 10 minutes or so until the internal temperature of the lobster meat registers 145F or 63C.
Smoked Tri Tip Steak Treated Like a Brisket (Smoked Trisket)
Delicious as beef brisket is it's hard to deny that it takes a very long time in the smoker and is an expensive cut of meat to buy. A really good alternative to brisket which can be smoked in a fraction of the time is the Tri Tip steak cut.
You can treat the steak just as you would a brisket – dust it with BBQ rub, smoke it slow and low and cut it thinly into slices. Unlike brisket, you can even serve it medium rare, and it only takes around 3 hours in the smoker.
Smoked Sides and Appetizers
Smoked Cornbread
Cornbread is a great side dish as is, but it tastes even better smoked. It only takes around 25 minutes in your pellet grill smoked in a cast iron pan, and the batter is easy and quick to make.
Ingredients
1 cup of Flour
1 1/3 cups of Cornmeal
1/2 cup of Honey
1 cup Milk (you can also use Beer)
1/3 cup of melted Butter
1 Egg
2 tsps of Baking Powder
1/2 tsp of Baking Soda
1 tsp of Salt
1/2 cup Cheddar Cheese shredded
Optional addition – candied or pickled jalapenos
Make the batter by adding the dry ingredients together first in a bowl – flour, cornmeal, salt, baking powder and baking soda. Then make a well in the middle and add the egg, melted butter, honey, and milk or beer. Mix thoroughly to combine. Finally add the shredded cheese and the jalapenos if using.
Place the batter in a cast iron pan and put it in your smoker at 400F 204C for around 20-25 minutes.
Smoked Mac and Cheese with Bacon
Mac and cheese is another delicious side dish that can be improved upon by smoking it in your pellet grill. Finish it off in your smoker for around 1 hour at 225F or 107C.
Ingredients
2 Pints (or 1.2 Litres) of Whole Milk
100g Plain All-Purpose Flour
100g Butter
100ml Double Cream
100g Mature Cheddar Grated
100g Grated Mozzarella
100g Grated Red Leicester
A Good Splash of Worcestershire Sauce
1 Teaspoon of Dijon Mustard
500g Macaroni Cooked to Packet Instructions
3 Slices of Smoked Bacon Chopped
For the Breadcrumbs
50g white breadcrumbs
50g parmesan cheese freshly grated
Salt & Pepper to taste
Cook the macaroni in boiling water according to the instructions (around 10 minutes). While the pasta is cooking fry off your bacon pieces in a medium hot cast iron pan until crispy. Remove and set aside.
Add the flour and the butter to the pan to make your roux. Whisk together until no longer lumpy then add the milk and cheese. Add the Worchestershire sauce, the mustard and the bacon back in, and when the pasta is cooked add it in too. add in the cream and sprinkle the breadcrumbs over the top.
Season the top with salt and pepper to taste and then place in the smoker at 225F or 107C over the wood of your choice (apple for mild smoke flavour, hickory for a stronger one).
Smoked Hot Dogs
Sausages are always a great thing to smoke as well as being quick and easy. If you want to get extra smoke flavour into them you can cut a criss-cross pattern with a knife into the skins.
Sausages only need to be rubbed with a little BBQ rub and smoked for up to an hour to make for fantastic, flavoursome hot dogs that make for a classic appetizer. You can even wrap them in bacon for extra flavour.
Best Things to Smoke on a Pellet Grill For Beginners
Quick Things to Smoke On Pellet Grill
If you want to some ideas for quick things to smoke on your pellet grill try below:
Any vegetables including veg steaks (e.g. cauliflower or cabbage) take up to an hour
Chicken wings, breasts or thighs can be done in 1-2 hours (especially at a higher heat of 275F or 135C)
Small cuts of steak e.g. Ribeye can be smoked in 45 minutes to an hour then seared at high heat to finish
Turkey legs can be done in 1-2 hours especially if you raise the temperature in your smoker
Any kind of sausage can be smoked in around 1 hour
Burgers can be smoked for an hour and then seared at high heat for 1-2 minutes a side
Country Style Ribs can be done in less than 2 hours
Pork chops can be smoked in around an hour
Lamb chops or steaks can be done in the smoker in around an hour
Pork loin can be smoked in around 3 hours (a much quicker alternative to pork butt)
Healthy Pellet Grill Recipes
If you are looking to make your pellet grill recipes more healthy, here are a few things to keep in mind.
A lot of BBQ rubs and sauces contain sugar adding unnecessary calories and coming with a few health risks. Make your own rubs and sauces without sugar or use a low calorie sugar substitute such as Stevia. This is a particularly good idea if you are following the Keto diet because the sugar will stop you going into ketosis.
Smoke cuts of meat that are leaner if you want to be more healthy. Pork shoulder is an unavoidably fatty cut so you could consider going for pork chops or pork loin that can be thinly sliced. Leaner meats such as turkey and chicken are great options too, as are oily fish such as mackerel or salmon which are packed with heart-healthy Omega 3.
You might enjoy our article on healthy pellet grill recipes.
For more ideas on the topic best things to smoke on a pellet grill try our top 10 pellet grill recipes article.
What is the best thing to smoke on a pellet smoker?
What is the best thing to cook on a pellet grill?
What can I smoke in a pellet grill?
What should I smoke first on my pellet grill?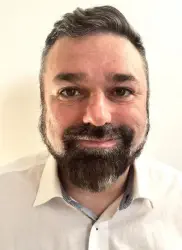 Latest posts by BBQ Smoker Grill Hub
(see all)