If you are just getting started out on your pellet grill journey, you'll love our best pellet grill recipes for beginners guide.
It's packed full of useful tips, ideas and great smoker recipes.
If you have literally just bought your pellet grill we recommend you give it a 'burn off,' to remove any leftover chemicals from the factory.
This is very easy to do but great for removing any harmful toxins. You simply turn on the pellet grill, place your wood pellets in the hopper and let the grill smoke with the lid off for around 30 minutes.
You'll also want to season the grates with an oil with a high smoke point e.g. Avocado oil or Canola oil work well here.
If you have a Pit Boss pellet grill you might find this guide useful for this:
If you have a different pellet grill e.g. Traeger, Camp Chef, Masterbuilt or Z Grills you'll want to follow the manufacturer's instructions.
If you are fortunate enough to have a Super Smoke setting on your Traeger use it – it's great for maximum smoke flavour and efficient burning for your wood pellets.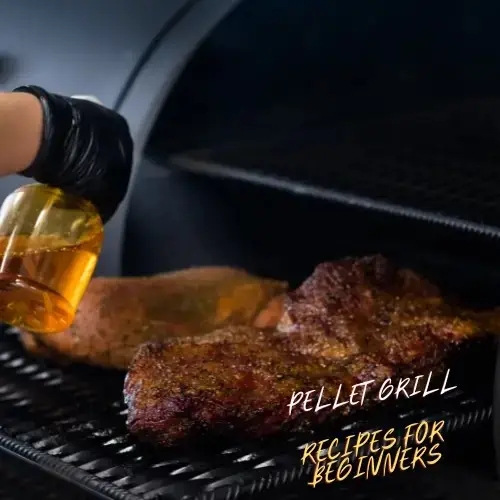 Top 10 Best Pellet Grill Recipes for Beginners
1 Pellet Grill Recipes – Smoke Your First Pork Butt
Pork butt (also known as Boston Butt) is a fatty cut of meat which comes from the pig's shoulder. It also happens to be the most common cut for the ever popular smoked pulled pork.
Although it takes a long time to smoke it's quite difficult to get wrong, especially if you closely follow these instructions. This makes it perfect for beginner smokers.
Not to mention it's easily one of the most popular meats to smoke at a BBQ.
The cider brine is a really great way to infuse extra flavour, and it's very straightforward to do.
2 Easy Traeger Fries with Homemade Chipotle Ketchup
Bet you didn't think of making fries in your pellet grill, did you?
This recipe is super simple, takes very little time to make and comes with a delicious and easily made Chipotle Ketchup.
Oh, and a super tasty beef seasoning rub (yes you read that right) that just happens to go really well with pellet grilled fries.
https://www.traeger.com/recipes/fries-chipotle-ketchup
3 Wood Fired Pellet Grill Pizza Recipe
A lot of people don't think of making a wood fired pizza on the pellet smoker but why not? Your pellet grill is perfectly set up for infusing wood smoke flavour after all.
This great meat feast pizza recipe from Oklahoma Joes is easy and quick for beginners, but heavy on taste.
Try it out – you won't be disappointed in the least!
https://www.oklahomajoes.com/recipes/wood-fired-pellet-grill-pizza
If you haven't smoked pork ribs before the 321 method is a straightforward way to smoke ribs in your pellet smoker.
It only has 3 simple steps involving 3 hours of smoking directly on the pellet grills, followed by another 2 hours wrapped in butcher's paper or foil, & then a final hour slathered in the BBQ sauce of your choice unwrapped.
This recipe calls for the larger, fattier pork spare ribs cut, but the smaller baby back ribs cut works just as well for the 3 2 1 method.
5 Camp Chef Pellet Grill Recipe for Grilled Trout
For a light, tasty, easy and healthy smoker recipe you should definitely try this grill trout recipe from Camp Chef.
Much like salmon, trout really takes on those smoke flavours well. Unlike salmon which is a larger fish, it doesn't take long to cook these smaller fillets. Trout also has a milder taste than salmon which means it is more of a blank canvas to take on smoke flavour.
Using a delicious lemon and dill compound butter on your smoked trout makes this recipe as delicious as it is easy.
https://www.campchef.com/recipes/recipe-grilled-trout.html
Sometimes meatloaf can be considered as a bit of an ordinary and boring meal. While this is somewhat unfair, there's no denying that a smoked meatloaf full of sweet, spicy, savoury flavours from a great dry rub and fresh herbs, done on the pellet smoker is a real showstopper.
7 Pellet Grill Recipes – Smoked Beef Riblet Recipe
Beef riblets are a really delicious meat cut to smoke. They are best defined as boneless beef chuck ribs with most of the meat cut off.
They are also very affordable, easy and quick to smoke – think of them as mini beef ribs.
Sauce them for the final stage of the cook or serve the sauce on the side at your guests' discretion.
8 Pellet Grilling Recipes – Smoked Eggs
There is probably not an easier pellet grill recipe out there than one for smoked eggs.
Smoke them in the shell or hard boil them first, remove the shell and place them in the smoker for fantastic extra flavour.
TOP TIP – Serve them with Frank's Red Hot Sauce – Sooooo Tasty!
It's also really easy to make them into smoked devilled eggs.
9 Sweet Tea Brined Chicken Wings
If you have never brined chicken wings for extra flavour before, you just can't go wrong with this sweet tea brine.
Brining your chicken wings in advance is the perfect insurance policy against dried out chicken wings in the smoker. A sweet tea brine is one of the best ways to infuse flavour into chicken wings in advance.
It's also really really straightforward and effective for beginner and advanced smokers alike.
https://www.myrecipes.com/recipe/pellet-grill-sweet-tea-brined-chicken-double-bbq-sauce
10 Pellet Grill Recipes For Beginners – Herb Crusted Pulled Lamb Leg
Lamb is not always the first meat people think of smoking, however a herb crusted slow cooked and pulled lamb leg is an absolutely stunning main dish for any BBQ cookout.
The fattiness of lamb leg lends itself so well to a crispy, tender and tasty result that it might just knock smoked pulled pork off the table!
Serve the lamb meat with tacos, burritos, in pitta bread or on its own with mashed potatoes or fries.
FAQ's About Pellet Grill Recipes
What is the Best Food to Cook on a Pellet Grill?
You have so many options of the best food to cook on a pellet grill. Here are our Top 10 favourite things to cook on a pellet grill.
Pork Shoulder For Pulled Pork
Beef Brisket
Pork Ribs (Baby Back or Spare Ribs)
Beef Short Ribs
Individual Cuts of Steak e.g. Ribeye
Whole Chicken
Chicken Wings
Chicken Thighs
Pork Chops
Lamb Chops
What Should I Cook on my Pellet Smoker?
With so many options available you might find it difficult to choose what to cook on your pellet smoker. Here are some of our fan favourites:
Whole Turkey
Whole Chicken
Pork Butt For Pulled Pork
Tri Tip Steak
Beef Brisket
Chicken Wings
Ribeye or Sirloin Steaks
Venison
Salmon
Can a Pellet Grill do Everything?
Yes a pellet grill can do everything a conventional oven can do and more – baking, roasting, grilling and smoking. You can cook any type of food low and slow or at high heat with the additional bonus of smoky wood flavours.
Related Recipes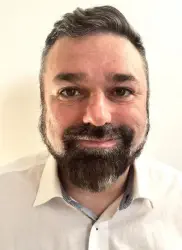 Latest posts by BBQ Smoker Grill Hub
(see all)