Are you thinking about the best way to cook a Tomahawk Steak? We have an easy and quick answer for you – reverse sear it on the pellet smoker grills.
Whether you have a Pit Boss, Traeger or Z Grills Wood Pellet Grill they all bring great smoke flavour and give you great control over how you smoke your steak.
This way you infuse fantastic smoke flavour AND make sure you have a nice crust and sear on this expensive and showstopping piece of meat.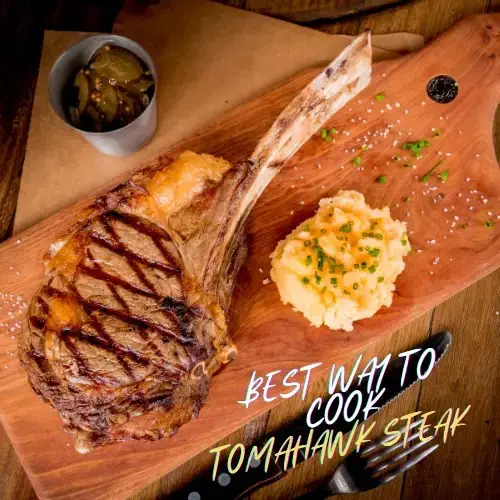 Best Way to Cook a Tomahawk Steak
The reverse sear method is the rational but opposite way round approach to how chefs in restaurants often cook steak – sear it on all sides and then finish it off in the oven.
Instead we are going to smoke our Tomahawk steak slow and low to bring in that smoky flavour, and then finish it off at a higher heat at the very end of the cook.
This classic, tried and tested method is hands down the best way to cook a Tomahawk steak for maximum flavour and delicious texture.
Adding a garlic and parmesan crust towards the end of the cook just elevates the steak even further.
This crust is applied to your Tomahawk steak on both sides when you reverse sear at the end of the cooking process, meaning that the crust is perfectly seared onto the steak and beautifully crispy.
Steps to Perfectly Seared Tomahawk Steak
1 Prepare the Tomahawk Steak
Pat the steak dry and season all sides of the steak generously with freshly ground pepper and coarse salt.
2 Set your Wood Pellet Grill to 225F (107C)
If you are using a Traeger set the Pellet Grill to the Super Smoke to ensure maximum smoke flavour. If you are using a Pit Boss, place it on the 'S' (Smoke Setting) on the control panel.
In terms of wood pellets, beef is already a bold flavour which can stand up to stronger smoke profiles such as mesquite or hickory. If you like a milder smoke flavour try cherry, apple or maple wood pellets.
3 Smoke the Tomahawk Steak for 2-3 Hours
At 225F it will take roughly 2-3 hours to smoke your Tomahawk steak to an internal temperature of 145F (63C) for medium rare.
4 Make the Garlic Parmesan Crust for Reverse Sear Tomahawk Steak
1 cup freshly grated parmesan cheese
1/2 cup softened butter
1/2 cup of panko bread crumbs
1/2 cup of chopped scallions to serve
Salt & Pepper to Taste
Brush your Tomahawk steak with the softened butter as a binder, and then cover both sides of the steak liberally with parmesan cheese and breadcrumbs.
Turn the heat on the grills up to around 400F (204C) and sear the Tomahawk steak for around 2-3 minutes each side.
5 Rest, Slice & Serve
Remove from the grills and rest your Tomahawk steak for at least 10 minutes.
Slice your Tomahawk steak on a board into thin pieces and scatter the chopped scallions on top. Add salt and pepper to taste.
Serve with your favourite side dishes and enjoy!
If you tried this recipe and enjoyed it tag us on Instagram!
Further Ideas about Smoking Tomahawk Steak
For another great recipe for reverse seared Tomahawk steak try here:
Yum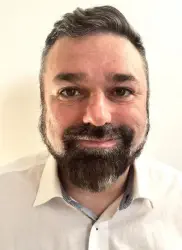 Latest posts by BBQ Smoker Grill Hub
(see all)