We all love chicken done on the BBQ, but what are the best sides for BBQ chicken?
Well, here are 10 of our favourite sides for BBQ chicken to give you some ideas and inspiration.
Some are classic, others are a little more creative but all are delicious.
What do you like to serve with your BBQ chicken? Let us know in the comments below!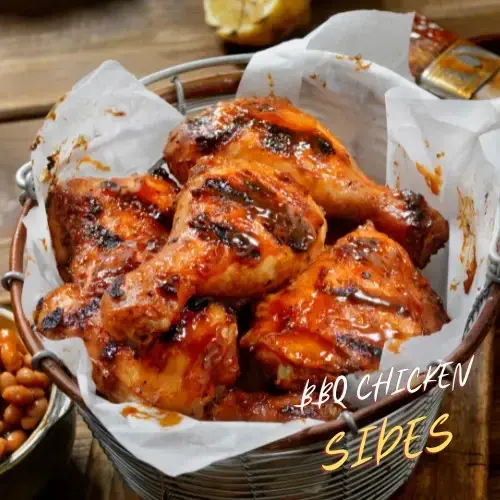 10 Best Sides For BBQ Chicken
1 Sides For BBQ Chicken – Mexican Style Chipotle Rice
This is a great side dish for BBQ chicken because it has all the smoky, spicy, citrus flavours of Mexican cooking, perfectly complementing your crispy charred smoky chicken.
It also has plenty of healthy tasty vegetables in there, along with a lime and chipotle kick.
It's such a good dish in itself you might not even need the chicken!
https://www.sneakyveg.com/mexican-style-chipotle-rice-with-peppers-tomatoes-and-black-beans/
2 Smoked Mac and Cheese with Bacon – One of the Best Sides for BBQ Chicken
Mac and cheese is always a great option for serving with BBQ chicken, but you have tried adding bacon and smoking it?
Those extra smoky, bacony flavours really elevate an already tasty, creamy dish like mac and cheese.
3 Chilli Cheese Cornbread – A Natural Side for BBQ Chicken
This delicious recipe from Jamie Oliver is a brilliant take on a classic BBQ side dish. The caramelised onions, sweetcorn and jalapeno chillies give cornbread a major upgrade.
It really is a fantastic sweet, tasty and slightly spicy side dish that will compliment your chicken wonderfully.
https://www.jamieoliver.com/recipes/bread-recipes/chilli-cheese-cornbread/
4 Good BBQ Chicken Sides – Chipotle BBQ Baked Beans with Bacon
BBQ baked beans are an obvious pairing for barbecue chicken, but these are no ordinary BBQ beans.
There is a whole pile of extra tasty ingredients to make this a whopper of a side dish. Think smoky chipotle flavours, tangy apple cider vinegar, sweet BBQ sauce and bacony deliciousness.
This could well become your new favourite BBQ beans recipe.
https://www.howsweeteats.com/2020/05/baked-beans/
5 Classic Potato Salad Recipe
Potato salad is a classic choice of side for any BBQ main, including chicken.
This recipe is classic, simple, elegant and flavourful. It's creamy, tangy and tasty in all the right ways for a perfectly balanced potato salad.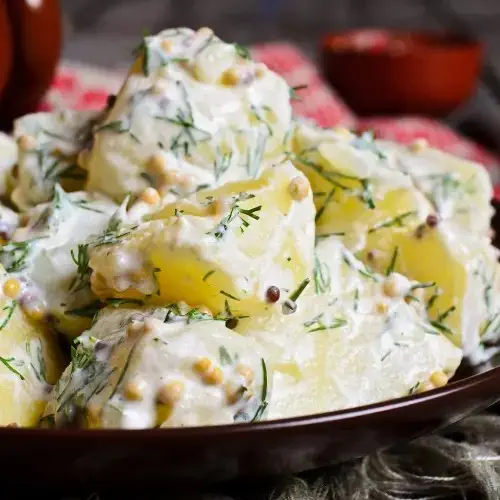 https://www.delish.com/cooking/recipe-ideas/recipes/a53128/classic-potato-salad-recipe/
6 Thai Slaw with Peanut Dressing – One of the Most Underrated Sides for BBQ Chicken
We all know that coleslaw is a great BBQ chicken side dish, but you really need to try this Thai slaw alternative for something special and different.
The creamy Thai peanut dressing is delicious with the crunchy texture of the various vegetables.
It works well on its own but it also happens to be one of the best sides for BBQ chicken!
We love the lime and chilli hit here too.
7 Good BBQ Chicken Sides – Smoked Dauphinoise Potatoes
We love the slightly smoky flavour mixed with the garlic, creamy sauce on these smoked Dauphinoise potatoes.
Doing them on your BBQ or smoker is definitely worth the result for not too much extra effort.
Perfect for a Sunday dinner or family get together.
https://meatsmokefire.co.uk/recipes/vegetables/potato-dauphinoise/
8 BBQ Chicken Sides – Cheesy Pasta
This easy and quick barbeque chicken pasta is perfect for a speedy weeknight dinner.
It's also delicious, smoky, cheesy and full of creamy goodness.
Don't let the simplicity put you off – the flavours really pack a punch!
https://www.effortlessfoodie.com/bbq-chicken-pasta/
9 A Super Healthy Side for BBQ Chicken – Quinoa Salad
If you are watching your weight, or you're wanting a health kick try this superfood quinoa salad with your chicken.
Quinoa has a delicious nutty taste and is a very nutritious alternative to rice. This colourful and exciting salad looks good on the plate and tastes good in your mouth.
https://www.inspiredtaste.net/38096/quinoa-salad-recipe/
10 Corn Ribs
For the vegans, vegetarians and curious carnivores among us corn ribs are a delicious side dish that matches well with chicken or any BBQ main.
When you cut the corn into rib shapes and smoke them slow and low on the BBQ they change shape taking on smoke flavour and charring delightfully.
Further Help with Chicken Recipes for Barbecue
FAQ's About Sides With BBQ Chicken
What Vegetables go Well with BBQ Chicken?
Some of the most popular and tasty vegetables to go with chicken include:
Broccoli
Sweetcorn
Mushrooms
Potatoes
Sweet Potatoes
Green Beans
Onions
Carrots
Parsnips
Peppers
A Green Salad
Asparagus
Cauliflower
What is the Best Side Dish to Bring to a BBQ?
Here are some of the most popular and best side dishes to bring to a BBQ:
Mac and Cheese
Cornbread
Pesto Pasta Salad
Potato Salad
BBQ Baked Beans
Corn on the Cob
Garlic Cheesy Potatoes
Baked Cauliflower Cheese
Coleslaw
Chicken Wings
What to Serve for Traditional BBQ?
If you want to cook up some traditional and classic BBQ food, try some of these ideas:
Steaks (ribeye, sirloin, rump etc)
Burgers with all the trimmings
Chicken Wings
Sausages
Pulled Pork in Buns
Brisket (with or without sandwiches)
Ribs (Pork or Beef)
Salads
Roast or Mash Potatoes
Fries
Beans
Coleslaw
Sweet Potatoes
Creamed Corn
Simple Sides for BBQ Chicken
If you are looking for some simple sides for BBQ chicken that you can make quickly, have a look below.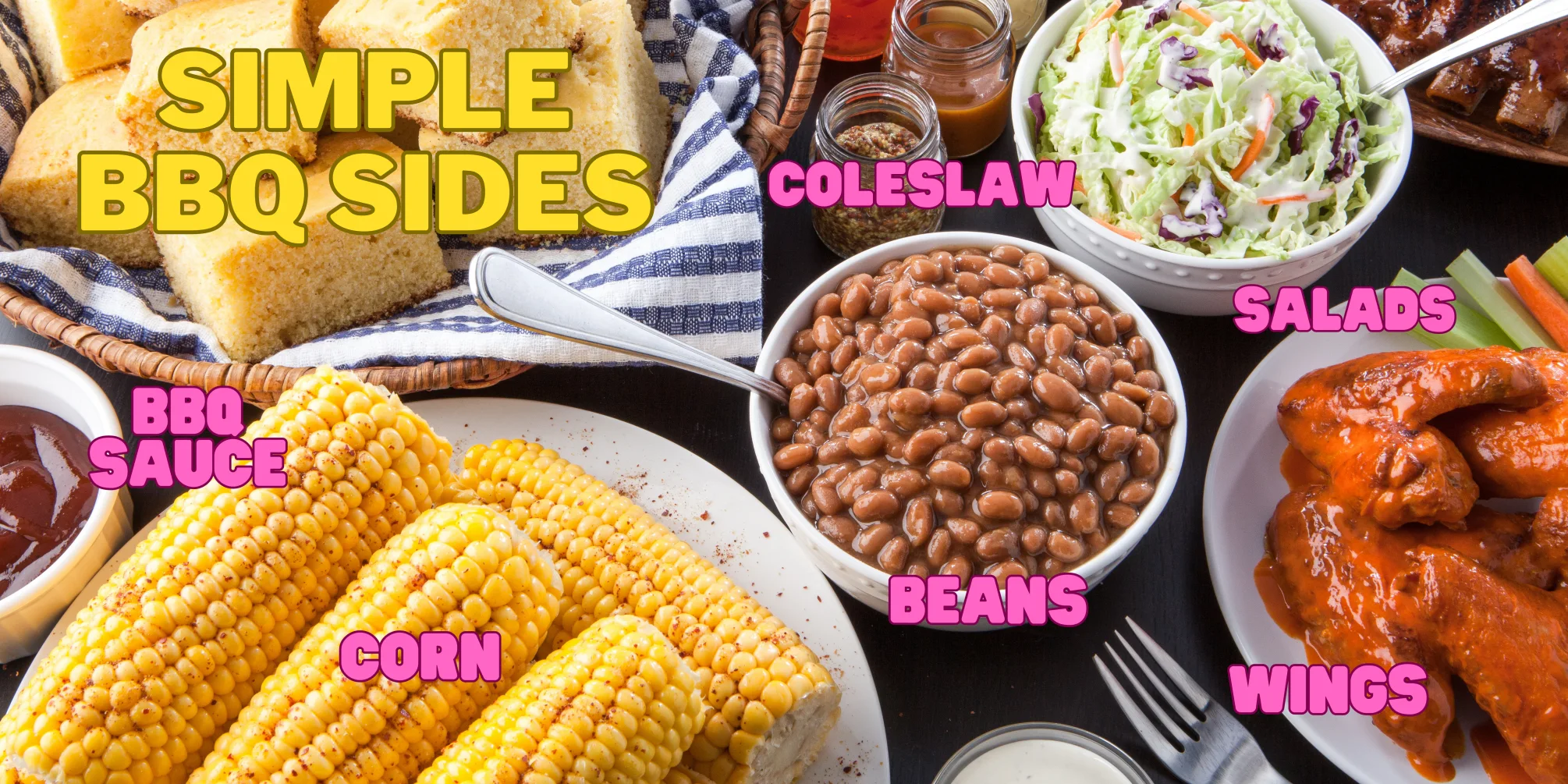 Healthy Sides for BBQ Chicken
Bulgar Wheat Rice Salad
Fresh Green Salad
Corn & Avocado Salsa
Healthy Potato Salad (Use Low Fat Mayo or Yoghurt)
Quinoa Salad
Brown Rice Bowl with Eggs & Avocado
Grilled Asparagus
Grilled Aubergine 'Steak'
Cauliflower 'Steaks'
Fresh Garden Peas
Corn on the Cob (substitute low fat yohurt or olive oil for butter)
Potato Sides for BBQ Chicken
Mashed Potatoes
Hassleback Potatoes
Fries
Roast Potatoes
Potato Salad
Baked Potatoes
Dauphinoise Potatoes
Cheesy Garlic Potatoes
Wedges
Crispy Baked Potato Skins (Optionally with Bacon & Cheese)
Rice Side Dishes with BBQ Chicken
Here are some tasty rice ideas to serve with BBQ chicken:
Mexican Style Rice with Lime, Beans and Spices
Simple Parmesan Risotto
Italian Style Rice Salad (Pine Nuts, Pesto, Tomatoes + Rice)
Rice Pilaf (With Veg and Spices)
Cajun Rice (Also Called Dirty Rice)
What to Serve with Shredded BBQ Chicken
Pulled Chicken Served in a Bun with BBQ Sauce
Chicken Salad
Rice
Tacos
Fajitas
Mexican Chilli (Chili) with Rice
Burritos
Nachos
Any potato dish
Related Article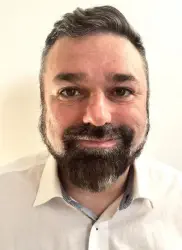 Latest posts by BBQ Smoker Grill Hub
(see all)