Here are our 10 best Tomahawk steak recipes from some of the best food bloggers and chefs around.
1 Tomahawk Steak with Compound Butter
You'll love this first Tomahawk Steak recipe. It's fast and easy – you sear the steaks on the BBQ grills for a few minutes and then finish them off in the oven at 375°F.
It's served with a fantastic herby, garlicky butter. Absolutely delicious.
For this recipe you will need 2 Tomahawk steaks, and 4-6 people to feed.
For the Compound Butter
1 teaspoon of rosemary, leaves picked & finely chopped 
2 teaspoons finely chopped parsley
1 teaspoon of salt
1 teaspoon of freshly ground black pepper
2 teaspoons of minced garlic
1 teaspoon Worcestershire sauce
8 tablespoons of room temperature butter
For the full recipe try here:
https://thestayathomechef.com/cook-perfect-tomahawk-steak/
Smoking a large cut of meat low and slow infuses flavour like nothing else. You owe it yourself to try this expensive cut of meat at least once on the smoker grills.
This recipe comes with a flavoursome dry rub and step by step instructions on how to smoke the mighty Tomahawk steak to create one of the best and most memorable meals of your life. 
This will feed 2-4 people depending on both appetites and the side dishes you serve.
Dry Rub 
1 Tablespoon Garlic Powder
3 Tablespoons Sweet Smoked Paprika
2 Tablespoons Freshly Ground Black Pepper
2 Tablespoons Brown Sugar
1 Tablespoon Onion Powder
1 Tablespoon Fine Sea Salt
1 Teaspoons Dried Oregano
1 Teaspoon Dried Cumin
1 Teaspoon Dried Thyme
1/2 Teaspoon Chilli Powder (or more if you like it hot!)
You'll also need an internal meat thermometer, good quality charcoal, wood to smoke with, and your favourite bone-in steak.
https://bbqsmokergrill.org/smoked-tomahawk-steak/
3 Tomahawk Steak Cooked in a Pan
While the bone might seem to make it difficult to cook a Tomahawk in the pan, it's perfectly possible if you cover the bone in tinfoil, as this recipe shows.
This is a straightforward no nonsense recipe for cooking the steak in a pan, and it's served with a simple but effective garlic and thyme butter.
Super tasty.
https://www.thespruceeats.com/tomahawk-rib-eye-steak-2313425
4 Tomahawk Steak with Chimichurri Butter
Chimichurri Sauce is a Uruguayan/Argentinian sauce that is made of lemon, chilli, herbs, vinegar, garlic oil and butter. 
It's really delicious and hugely popular right now.
It also goes really well with steak. 
Try this awesome South American sauce with your Tomahawk steak for amazing results.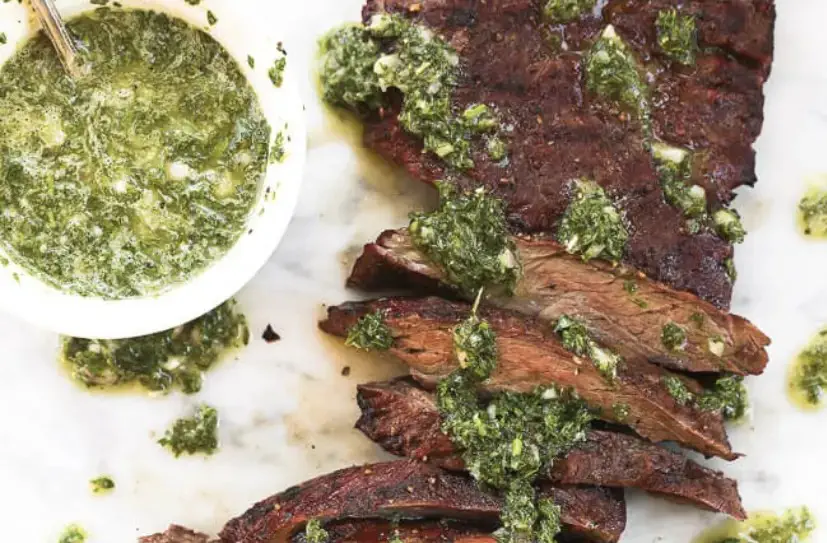 Chimichurri Sauce
Handful of freshly chopped parsley
Handful of freshly chopped cilantro/coriander
Handful of freshly chopped mint 
1 garlic clove finely chopped
1 lemon zested and juiced
1 Tablespoon of Olive Oil
8 Tablespoons of Room Temperature Butter
Salt and pepper to taste
Try the full recipe here:
https://littleferrarokitchen.com/grilled-tomahawk-steak-with-chimichurri-compound-butter/
5 Tomahawk Steak with Shallot and Red Wine Sauce
This recipe is pure luxury on a plate.
Proper fine dining at home!
You'll need a 1kg Tomahawk steak and the following ingredients for the sauce:
Shallot, Cream & Red Wine Sauce
50g Butter
2 Finely Chopped Shallots
Double Cream To Taste (around 25ml)
2 Garlic Cloves Finely Chopped
Olive Oil
1 Teaspoon of Freshly Ground Black Pepper
1 Teaspoon of Finely Ground Sea Salt 
1 Teaspoon of Freshly Chopped Thyme Leaves 
750 ml Beef stock
1 Tbsp of Sugar
500 ml Red wine
Check out the full recipe here:
https://www.thelondoneconomic.com/food-drink/recipes/best-tomahawk-steak-recipe-222299/
6 BBQ Tomahawk Steak with Miso Butter, Salsa Verde and Garlic Bread
This fantastic recipe for Tomahawk steak is served on Garlic Bread with Tarragon Salsa Verde and Miso Butter.
You simply must try it – it's an absolute knockout dish! 
Tarragon Salsa Verde
150ml of Olive Oil
1 handful of finely chopped parsley leaves
A handful of tarragon leaves
1 finely chopped shallot
1 tablespoon of capers
2 finely chopped garlic cloves
4 anchovies
1 Tablespoonful of Fresh Lemon Juice
Freshly Ground Black Pepper to Taste
Freshly Ground Sea Salt to Taste
For the full recipe click here:
https://www.greatbritishchefs.com/recipes/barbecued-tomahawk-steak-recipe
7 Sous Vide Tomahawk Steak
This recipe is a very wonderfully different way to cook Tomahawk steak – the sous vide cooking approach creates a brilliant steak, tender and juicy with a tasty crust. 
Your steak is cooked inside a vacuum sealed bag with herbs and seasoning and then cooked to your liking in a water bath.
Have a look at the recipe here:
https://savorthebest.com/sous-vide-tomahawk-steak/
8 Reverse Sear Tomahawk Steak
We've all heard of searing your meat first, and then finishing it off in the oven, right? 
Well, apparently this approach doesn't lock in moisture as well as we have been lead to believe.
This is where the reverse sear cooking method comes in. 
You cook the tomahawk low and slow first, in the smoker, oven or grill, and then sear the meat at the end in a cast iron pan or over hot grills for a juicier result.
Well worth checking out, even as a point of comparison. We all have our preferences, but it's always great to try new things!
Have a look at the recipe here:
https://www.smokedbbqsource.com/reverse-sear-method/
9 Togarashi Tomahawk
This is brilliant recipe and something completely different to what you would normally do with steak.
This is a Japanese style dish flavoured with sesame, nori seaweed and dried mandarin. The steak rubbed with a tasty togarashi spice mix, and then basted with a mix of miso and rice wine vinegar. 
Delicious. Don't take our word for it, have a look at the recipe here:
https://www.olivemagazine.com/recipes/meat-and-poultry/togarashi-tomahawk/
10 Korean BBQ Style Tomahawk Steak
Imagine all the lovely flavours of Korean BBQ on this amazing cut of beef.
You'll need these ingredients for the marinade:
        1 tablespoon of brown sugar 
        2 finely chopped green/spring onions
        1/2 cup of soy sauce
3 cloves finely chopped garlic
1 inch piece of finely chopped ginger
        1 tablespoon sesame seeds
2 tablespoons of kimchi brine
Although this recipe is for Ribeye steaks you can adapt it to suit a Tomahawk steak (the Tomahawk steak is after all a bone-in ribeye).
https://www.chilesandsmoke.com/korean-grilled-ribeye-steak/
FAQ's About Tomahawk Steak
Can You Roast a Tomahawk Steak?
Yes you can. Roast the steak in the oven at 375°F until the steak's internal temperature is up to your liking:
For Rare 125°F 
For Medium-Rare 135°F
For Medium 145°F 
For Medium-Well 155°F 
For Well 165°F
This will take about 30-40 minutes, but you should always use a meat thermometer rather than rely on timings.
What Do You Serve with Tomahawk Steak?
Serve your steak with classic sides such as fries, roast potatoes, mashed potatoes, steamed vegetables.
In terms of sauce popular options would be Chimichurri sauce, Bearnaise sauce, or blue cheese sauce.
How Long Does Tomahawk Steak Take to Cook?
At 375°F in the oven, a Tomahawk steak will take between 30-40 minutes to reach medium-rare with around 15 minutes of resting time.
What Cut is Tomahawk Steak?
The Tomahawk steak is actually a ribeye steak but with part of the rib bone still attached. It is cut from the Fore-Rib and is called Tomahawk because it resembles the shape of a Tomahawk axe.
Is Tomahawk Steak Fatty?
This cut of steak naturally has more intramuscular fat because the animal doesn't use its rib muscles much.
This gives the meat a lovely marbling of fat making it more buttery and tender than some other beef cuts.
Is Tomahawk Steak Prime Rib?
The Tomahawk and the Prime Rib are both cut from the rib section of the cow. 
The only difference is that Prime Rib is usually cut off the bone after cooking, and the Tomahawk is cut with the bone still attached before cooking.
How Much Tomahawk Steak Per Person?
Depending on the size of your Tomahawk steak, and side dishes it can feed up to 6 people. Some of the smaller Tomahawk cuts will feed 2-4 people.
What is the Difference Between a Cowboy Steak and a Tomahawk Steak?
A Tomahawk has a longer bone than the Cowboy steak. Otherwise they are basically the same thing. 
Where to Buy Tomahawk Steak
The best place to buy Tomahawk steak from is your local butcher, as few supermarkets sell such a prized and expensive cut of meat. You will probably need to order it in specially. 
You can also buy it online with Shukers Butchers on Amazon if you are in the UK.
If you enjoyed this Tomahawk Steak Recipes article you may also enjoy this one, 'Best Smoker Recipes for Mouthwatering BBQ Grill Eats.'
Or this one:
Chicken in the Smoker Recipe in 5 Easy Stages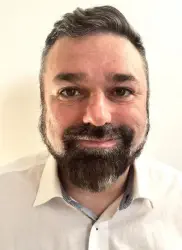 Latest posts by BBQ Smoker Grill Hub
(see all)