Have you tried a Chicago Style Deep Dish Pepperoni Pizza in your Ooni oven yet? This deep dish pizza recipe for your Ooni will take you through step by step.
It's easy and so rewarding to make. All you need is a circular cast iron pan, your Ooni (or other wood fired pizza oven) and a few simple ingredients.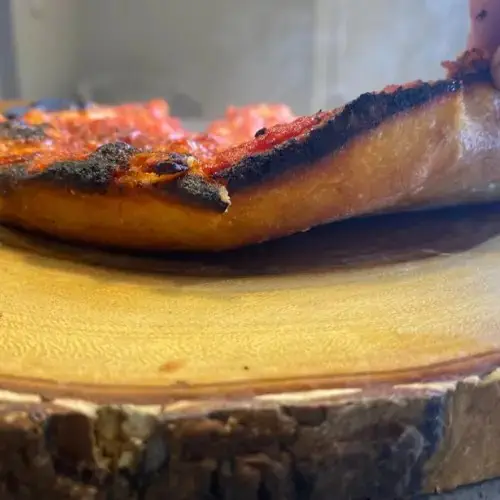 Chicago Style Deep Dish Pizza Recipe in the Ooni Oven
Chicago Style Pizza Dough Recipe
1 KG Tipo 00 (We like Caputo 00 Flour)
1 Teaspoon Dried Yeast
600ml Warm Water (400ml Cold Water to 200ml Boiling Water)
4 Teaspoons of Salt
Deep Dish Pizza Dough Method
Add the salt, water and yeast together first and stir – leave to combine for a few minutes.
Place the 1 KG Tipo 00 Flour in a large bowl, and add the salt, water and yeast mixture to the flour.
Knead the dough in the bowl with wet hands until you have a large smooth ball.
Tip the dough onto a floured surface, and knead for another 10 minutes or so.
Return the dough to the bowl, sprinkle over a little more flour, and cover with clingfilm. For best results leave for at least 12 hours to prove, preferably 2-3 days in the fridge. If you are short on time give it at least an hour at room temperature to double in size.
Deep Dish Pizza Sauce Recipe
1 tin good quality plum tomatoes
1 whole garlic clove
A handful basil leaves
Blitz in a blender e.g. Nutribullet.
Optional – 1/2 teaspoon dried oregano
Chicago Deep Dish Pizza Method
Oil a cast iron pan and leave 300g of your dough to prove in it for 30+ minutes.
Add pepperoni first onto the dough, then mozzarella cheese and top with pizza sauce to cover. See the video to help.
Cook In the Ooni oven on high heat for 15 minutes or so turning regularly for an even cook.
You can see the whole process on our Instagram video. Please feel free to like and follow! Tag us if you tried it.
What Makes Chicago Style Deep Dish Pizza Different?
The most obvious difference to Neopolitan or Italian pizzas in general, is that Chicago pizza has a crust which is at least an inch thick because it's baked in a pan. This is why it often gets called a 'pie.'
Other important differences include the cheese is placed on the dough first, then the toppings and finally the pizza sauce to cover it. This is the other way round to how most pizzas are made.
Who Invented Chicago Style Deep Dish Pizza?
There are a few theories about who invented Chicago style pizza. Some attribute it to Ike Sewell and Ric Riccardo who founded Pizzeria Uno in Chicago in 1943. Some people think that it was the original pizza chef of Pizzeria Uno called Rudy Malnati.
It has also been suggested that deep dish pizzas were being served in Rosati's Authentic Chicago Pizza as early as 1926. 
Regardless of who actually invented it first deep pan pizza is still a popular part of the city's cuisine and heritage.
If you enjoyed this article you might also like to read this one.
As Amazon affiliates we may make a small commission at no extra cost to you if you choose to buy through these links. This blog is reader supported.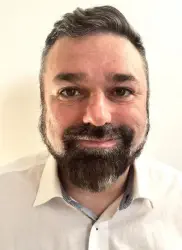 Latest posts by BBQ Smoker Grill Hub
(see all)