Smoking ham is a great way to delight guests at Christmas or Thanksgiving. While most people think of smoking turkey or ham at Christmas or Thanksgiving, there's really no reason not to enjoy smoking a ham at any point in the year regardless of the season.
Smoked ham is deliciously crispy, sweet, salty and spicy. A delight for anyone's tastebuds.
Smoking Ham for Christmas, Thanksgiving or Anytime!
There's no doubt that smoky, sweet, spicy ham brings up all sorts of Christmas, Thanksgiving and comforting Fall memories for most of us.
It's a feast for the senses, and pairs perfectly with smoked turkey, cranberry sauce, potatoes and a host of other side dishes.
Let us help you on your journey towards smoking ham to perfection for Christmas, Thanksgiving, Easter or just a knockout Sunday dinner.
How Long to Smoke a Ham at 225F?
The optimal smoking temperature for larger cuts of meat is between 225-250F. If you smoke your ham at 225F it will take somewhere between 3.5 to 5 hours. More importantly though, it needs to reach an internal temperature of 165F to be safe to eat.
How Long Does it Take to Smoke a 10 Pound Ham?
At 225-250F a 10 pound ham will take around 3.5 to 5 hours to smoke to an internal temperature of 165F.
How Long to Smoke a 9 Pound Ham?
If you are smoking at a temperature of 225-250F a 9 pound ham will take 3.5 to 5 hours to smoke to an internal temperature of 165F.
Should I Use a Water Pan When Smoking a Ham?
A water pan is optional, but moist heat can work well for larger cuts of meat such as a ham. There are ways around this – such as spritzing the ham regularly with apple cider vinegar, butter, cider, apple juice or a mixture of these ingredients.
Dry Rub for Smoked Ham
1 Teaspoon Chilli Powder
1 Teaspoon Sweet Smoked Paprika
1 Teaspoon Sugar
1 Teaspoon Finely Ground Sea Salt
1 Teaspoon Freshly Ground Black Pepper
1 Teaspoon of Ground Cumin
1 Teaspoon of Onion Powder
1 Teaspoon Garlic Powder
Combine all ingredients in a small bowl and whisk to combine and break down any lumps.
How to Smoke a Ham for Christmas or Thanksgiving
Brine the ham overnight in a brining solution of 2.25 cups coarse salt, 2 cups brown sugar, 6 quarts or 5.5 litres of water (optional – 2-3 whole peeled garlic cloves and a sprig of rosemary)
Remove ham from brine and pat dry
Cut the fat on your ham into criss-cross or diamond shapes
Cover the ham with 1 tablespoon mustard or honey to act as a binder (olive oil or butter are good too)
Apply the dry rub liberally over the ham
Place in the BBQ Smoker (Pellet Grill) for 3.5 to 5 hours until internal temp is 165F
Rest for 15-20 minutes before serving to redistribute the meat juices
Do You Smoke a Ham Fat Side Up or Down?
Always smoke a ham fat side up. This means that the fat will have a chance to render down and travel down through the meat for best results. Fat equals flavour and moisture and it ensures your meat doesn't dry out and is packed with much more flavour.
If you enjoyed this article try our 'How to Smoke a Ham,' article.
You might also enjoy our 'Smoked Thanksgiving Turkey Ultimate Guide.'
For more information smoking ham try here:
https://www.daringgourmet.com/how-to-smoke-a-ham/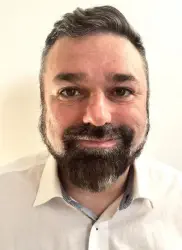 Latest posts by BBQ Smoker Grill Hub
(see all)