This Z Grills chicken thighs recipe comes with a simple but deliciously elegant Al Pastor marinade and can be smoked in your pellet grills at 250F or 121C in around 1-2 hours. Obviously you can use whatever brand or pellet grill you have or even an offset smoker.
If you aren't used to smoking chicken thighs you'll be surprised how well they maintain moisture and take on smoky flavours.
Serve this delicious chicken in tacos, burritos or burrito bowls, fajitas, as enchillas or even with nachos.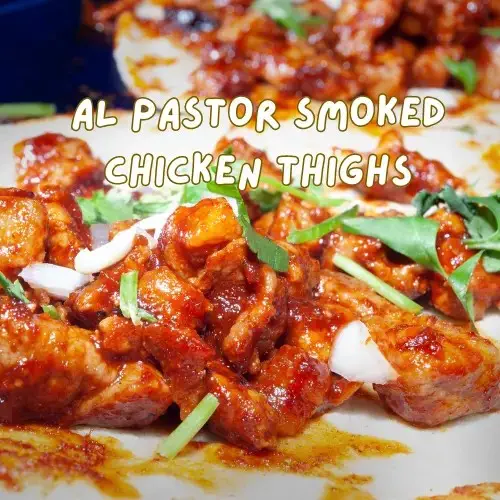 Z Grills Chicken Thighs Recipe
Z Grills pellet grills are a refreshingly great alternative to Traeger or Pit Boss for a lower price and yet great durability.
Z Grills Chicken Thighs Recipe Easy Marinade
3.5 oz or 100 ml pineapple juice
1 and 1/2 tablespoons of white vinegar
1 tablespoon of freshly squeezed lime juice
▢1/2 large onion, roughly chopped
2 cloves peeled whole garlic
1 teaspoon of ground cumin
1 teaspoon of oregano
1/2 teaspoon of cinnamon
1 tablespoon of salt
1/2 tablespoon black pepper
1 tablespoon 

Achiote paste

(a South Eastern Mexican smoky paste)
2 tablespoons Mexican chilli powder (e.g.

Guajillo chilli powder

)
1 tablespoon of olive oil (or equivalent oil)
Make the marinade by blitzing all the ingredients in a blender until smooth.
Place 1 pound of boneless chicken thighs in a bowl and pour in the marinade. Toss the chicken to coat thoroughly and set aside for at least 15 minutes while you preheat your Z Grill to 250F or 121C.
You can also marinade the chicken for up to 24 hours in your fridge – just make sure you take it out of the fridge at least 30 minutes before cooking to allow it to come up to room temperature.
Z Grill Smoked Chicken Thighs Method
Add your choice of wood to the hopper of your Z Grills pellet grill (hickory for a stronger smoke taste, apple or cherry for a milder fruitier taste) and get the grills up to 250F or 121C
Place the boneless chicken thighs into the grill and close the lid – reserve the marinade
Bring the marinade to a boil for 3-4 minutes on the hob in a small pan and then set aside
Leave the chicken in there for at least 30 minutes and then brush generously with the Al Pastor marinade on all sides
Smoke for another 30 minutes and then brush generously with the marinade again – at this point check the internal temperature to see how much longer the chicken will take
Smoke for another 10-15 minutes or so or until the internal temperature of the chicken reads 74C or 165F
Slice the chicken into thin slices and serve with tacos, burritos, fajitas etc – serve the extra marinade on the side as needed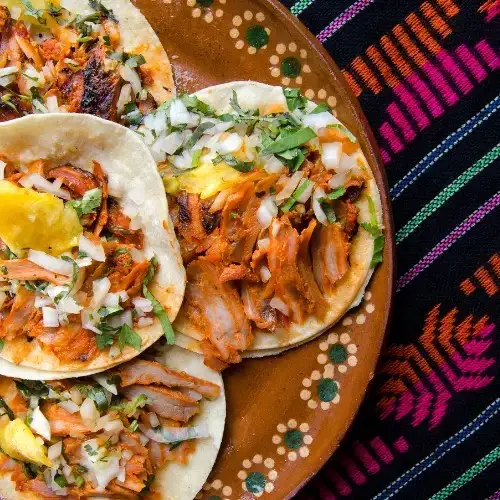 Z Grill Chicken Breast Recipe
You can obviously do this Z Grills chicken thighs recipe slightly differently using chicken breast. Marinate the chicken breast in the Al Pastor marinade in the same way and then smoke the breast at 250F or 121C until the internal temperature reaches 165F or 74C in the thickest part of the breast.
Chicken breasts will take a little longer to cook than thighs as they are bigger and thicker but the target internal temperature is the same.
If you enjoyed this recipe have a look at our Z Grills recipe for ribs, or our 7 best Z Grills recipes articles.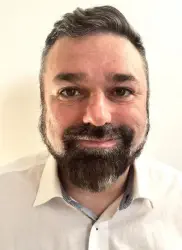 Latest posts by BBQ Smoker Grill Hub
(see all)