If you are looking for some of the best Masterbuilt smoker recipes around, then you will get plenty of value from this post.
In this article we will consider some great smoker recipes from Masterbuilt themselves, as well as some of our own that can be easily smoked in a Masterbuilt pellet grill, but also some of the best recipes and ideas from a few other places too.
Your Masterbuilt smoker is fantastically versatile which allows us to cook all sorts of food in it, so we shouldn't run out of ideas too easily!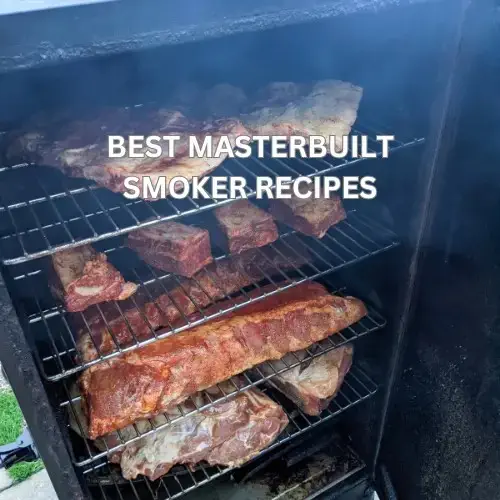 Best Masterbuilt Smoker Recipes
Masterbuilt Smoker Recipes Chicken
We'll start off by looking at chicken recipes because this meat is one of the most popular and best meats for smoking.
This is a very tasty way to smoke a whole chicken and involves marinading the a whole roasting chicken first in the following ingredients:
olive oil
1 tsp ground cinnamon
1 tsp ground cardamom
1 tsp ground cumin
1 tsp ground cloves
3 tbsps ground coriander
salt & black pepper to taste
cayenne pepper to taste
When you are ready to smoke the chicken you preheat your Masterbuilt smoker to 220F or 104C and smoke the chicken for around 3 hours until the internal temperature is 165F or 74C in the thickest part of the meat. Hickory or apple wood is recommended for smoking.
This is definitely one of the best smoker recipes for beginners as it's easy and pretty quick but delivers tasty results.
Smoked Chicken Wings on the Masterbuilt
It's hard to beat chicken wings as an appetizer or side dish, and this is a great chicken smoker recipe.
You simply smoke the wings at 250F or 121C in your Masterbuilt grill for around 2 hours. The wings are dusted with a simple dry rub (you can also use your own favourite BBQ rub) made from mixing the following ingredients:
2 tablespoons smoked paprika
2 tablespoons salt
2 tablespoons freshly cracked black pepper
1 tablespoons ground cumin
2 tablespoons garlic powder
Easy Smoked Chicken Thighs
This simple chicken thighs recipe can be smoked in your Masterbuilt grill at 250F or 121C for 1 1/2 to 2 hours over your wood of choice (hickory or apple are both good) until the thighs read 165F or 74C in the thickest part of the chicken meat.
Combine the following ingredients in a bowl to make your BBQ rub (or use a store bought one):
1 tablespoon fine sea salt
1 tablespoon freshly ground black pepper
1 tablespoon chilli powder
1 tablespoon smoked paprika
2 teaspoons garlic powder
1/2 teaspoon dried oregano
4 tablespoons brown sugar
2 teaspoons onion powder
Masterbuilt Smoked Stuffed Chicken Breast
You can really take your smoked chicken to the next level by stuffing it with a simple mixture of shredded cheese, cooked bacon and cream cheese.
Cook this stuffed chicken breast in your Masterbuilt smoker for around 2 hours at 225F or 107C for a smoky, juicy and tasty result.
Masterbuilt Smoker Recipes Ribs
Ribs are always going to be a really popular thing to smoke in any pellet grill. There are quite a few things to consider and people like their ribs different ways, so we'll give you a few different options of how to cook them.
Some people like a fall off the bone texture to their ribs, while others prefer a firm bite and a pull of the bone texture to their ribs, so we will look at 3 different ways to smoke ribs and you can decide which one you would prefer.
221 Method For Baby Back Ribs
Baby Back pork ribs are smaller and less fatty than spare ribs, which means they can be cooked cooked in a shorter time. This will give you a fall off the bone texture to your ribs and will take 5 hours altogether.
The 221 method for ribs means smoking the ribs in your pellet smoker for 2 hours directly on the grills, wrapping them in tinfoil with a little liquid and sugar (e.g. butter, oil, apple cider vinegar) and steaming for another 2 hours before finally smoking them unwrapped for 1 hour. The ribs can be sauced for this final hour or you can serve the sauce on the side.
Competition Style BBQ Ribs
This smoking recipe is for those who like a firm bite to their ribs and it involves a shorter smoke time at a higher heat.
If you smoke at the higher temperature of 300F or 149C you can smoke your ribs in around 2 1/4 hours to get a firm bite from the middle of the rib and a pull off the bone texture.
321 Method For Spare Ribs
Spare ribs are bigger and fattier than Baby Back ribs meaning they have to be cooked a little longer to get that fall off the bone texture.
The 321 method for ribs it similar to the 221 method for ribs except that the ribs are smoked for 3 hours before wrapping rather than 2.
Masterbuilt Recipes For Smoked Pork
Country style 'ribs' are not actually from the ribs of the animal and are boneless. It's still a great cut to use for smoking on your Masterbuilt smoker though, and this great recipe comes from Masterbuilt themselves.
The 3 pounds of Country Style Ribs are smoked for around 1 1/2 to 2 hours and brushed with a delicious glaze at the end of the cook. You make the glaze by heating the following ingredients together in a pan. Bring to the boil and then leave to simmer for around 10-15 minutes.
1 cup ketchup
2 tbsps Worcestershire Sauce
1/4 cup finely chopped onion
1/4 cup mildly flavoured molasses
1/4 cup apple cider vinegar
2 cloves minced garlic
1/2 cup of water
2 tsps chilli powder
Pork Belly Burnt Ends
If you haven't tried pork belly burnt ends on your Masterbuilt or other pellet grill, then it's well worth a go.
You cut your pork belly into 1 inch cubes and smoke it for 5 hours altogether, using a delicious sweet sauce during the last part of the cook. The sauce has the following ingredients:
1/4 cup of butter
1/4 cup of brown sugar
2 tablespoons of honey
3 tsps of Tabasco or your favourite hot sauce
You melt the butter, brown sugar, honey and Tabasco in a pan, and cook for several minutes until the sugar is dissolved.
Smoked Pork Butt
Pork butt for pulled pork is a rite of passage for any BBQ enthusiast. Despite the long cook time it is 100% worth it, and a great meat to smoke for beginners as it is hard to get wrong.
You will need to liberally dust your pork butt with a good quality BBQ rub and smoke it in your Masterbuilt grill until the internal temperature reaches 160F or 71C. Then you wrap your pork tightly in tinfoil along with some butter and brown sugar and return it to the smoker until the internal temperature registers 203-205F or 95-96C.
The whole process can take 10+ hours depending on the size of your pork butt, but you just might not be able to resist this one!
A good rule of thumb is 1 1/2 hours per pound of meat at 225F or 107C.
Easy Quick Masterbuilt Smoker Recipes
If you want some easy and quick smoker recipes try some of the following ideas:
Chicken Wings, Breasts or Thighs (1-2 hours)
Sausages of any kind (1-2 hours)
Pork Loin (3-4 hours)
Whole Chicken (2-3 hours)
Smoked Turkey Breast (Around 2 hours)
Lamb Chops or Steaks (Around 1 hour)
Pork Chops (Around 1 hour)
Vegetable Steaks e.g. broccoli, cauliflower or cabbage (up to 1 hour)
Smoked eggs (1 hour)
Smoked nuts of any kind (up to an hour)
If you enjoyed this article on Masterbuilt smoker recipes you might also enjoy our article on what can I smoke in 3 hours?
Feel free to leave us a comment if you tried any of our ideas or share on your favourite social media.
You can follow us on @bbqgrillshub on Instagram if you like too.
Happy smoking and grilling on your Masterbuilt grills!