For some great ideas for BBQ starters and ideas for pellet grill appetizers, look no further.
Your pellet grill can cook pretty much any type of food you need to cook, including some great appetizers to keep your guests happy before the main event. In this article we'll have a look at snacks that are great to keep hunger at bay while you get on with the hard work of your brisket, pork butt, ribs, whole turkey or chicken and the like.
BBQ Starters Ideas For Pellet Grill Appetizers
Try these BBQ starters recipes for some great ways to please any guests on so many different occasions.
Classic Buffalo Boneless Chicken 'Wings'
Some people are are OK with bones in their chicken and some people just aren't. It may surprise you that it's possible to establish a middle ground where you can serve up BBQ appetizers that either have boneless breast meat or a combination of dark and white chicken meat (without bones) that taste absolutely delicious.
Boneless chicken wings are 100% a thing. This recipe comes with a Buffalo Hot Sauce recipe that might just be next level, including extra spices and seasonings to add to the average classic butter and hot sauce combination.
Classic Potato Salad
Potato salad just screams one of the best BBQ starters that could be imagined. You will need the following ingredients:
A small bag of your favourite boiled and cooled potatoes e.g. New Jersey Potatoes or Yukon Gold Potatoes
Good Quality Mayonnaise – 2 tbsps e.g. Hellmans
3-4 hard boiled eggs shelled and halved
1 tsp of Dijon mustard
1/2 red onion finely chopped
A packet of arugula (rocket) leaves
Salt and pepper to taste
A tbsp of freshly chopped chives or mint
Optional – 1 tbsp of honey to dress
Mix together the mustard and mayo in a bowl (and honey if using) then place all the other ingredients in with this dressing and toss to combine.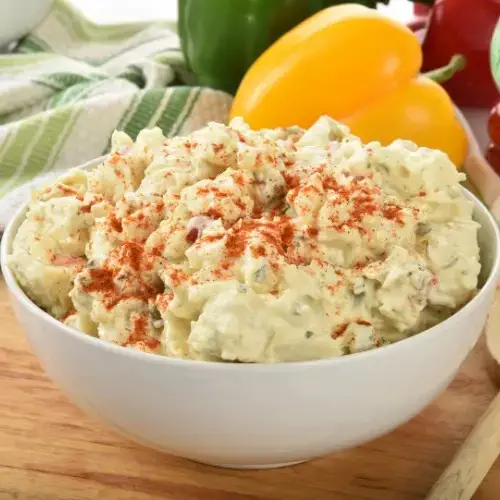 Pigs in Blankets or Bacon Wrapped Smokies
Pigs in blankets are a quick and easy starter that still taste fantastic. If you are smoking something big in your smoker already (as in pork butt or brisket), it's easy to throw your pigs in blankets in along with it for 1-2 hours.
These are especially good during the holidays but still work really well at any time of the year.
You simply wrap a cocktail sausage in bacon along with a sage leaf and hold it in place with a sage leaf. Dust it with your favourite BBQ dry rub and cook at high heat for 10-15 minutes or so.
Otherwise you can just grill them quickly at high heat or cook them in your oven.
Watch the process below on our Instagram account.
Smoked Hot Dogs
Hot dogs are a staple at any BBQ and make for great appetizers, but you may not have considered smoking them for extra flavour.
Again if you are already cooking some larger cuts of meats for hours anyway it's easy to add your sausages in as well for 1-2 hours.
You can also cut across the sausage skins as in a crisscross pattern to allow extra smoke in as our recipe for smoked hot dogs suggests.
Smoked Shotgun Shells
These simple BBQ starters are delicious and born to be smoked. You simply take a large pasta tube such as mannicoti (similar to cannelloni but bigger), stuff it with ground beef and cheese and then wrap it with bacon. These take around 2 hours in the smoker to cook.
Optionally you can brush with BBQ sauce as well.
Jalapeno Poppers
Jalapeno Poppers are another great pellet grill appetizer which are easily prepared or quickly smoked. You simply stuff a jalapeno pepper with cheese, bacon and cream cheese and smoke it in your smoker for 1-2 hours. You can wrap them in bacon if you like and do them in the oven if it suits you better.
Smoked Pumpkin Soup
In general soup is a perfect appetizer for any meal, including BBQ gatherings, but smoked pumpkin soup is particularly good and seasonal. You can also substitute butternut squash here.
You smoke the pumpkins for around 2 hours at 250F first and then make a soup with the insides along with chicken broth (stock) and a few other simple ingredients.
You try our article on smoked pumpkin recipes for more ideas as well as soup.
This is a classic BBQ starter for good reasons – it is super tasty, easy to make and helps keep hunger at bay.
You simply need to add pesto to cooked and cooled pasta, along with salad leaves, pine nuts and chopped cherry tomatoes. For convenience you can use store bought pesto. If you want to make your own simply blend the following ingredients in a blender:
2 oz (50g) pine nuts (you can toast these first in a dry pan first for extra flavour if you like)
2 3/4 oz (80g) freshly grated parmesan cheese
5 oz (150ml) Virgin olive oil
2 whole garlic cloves skins removed
Homemade Coleslaw
Coleslaw is a classic BBQ starter and side and it is extremely easy to make from scratch.
For the dressing mix together:
1 tbsp Dijon mustard
2 oz (50g) mayonnaise
2 oz (50g) yogurt
1-2 tbsp white wine vinegar
a few pinches of smoked paprika
Grate 4 carrots, finely chop 1/2 head of white cabbage and half red onion and add them to the dressing in a bowl. Toss to combine.
For a slightly different take on coleslaw add 1 red apple finely chopped and cored to make a delicious apple slaw. You can also add finely chopped and peeled beetroot for apple and beetroot slaw.
Teriyaki Smoked Chicken Wings
For a slightly different take on the popular BBQ starter of smoked chicken wings, try brushing them with Terijaki sauce or tossing the wings in the sauce before serving.
The wings can be smoked in your smoker at 225F or 107C for 1-2 hours to an internal temperature of 165F or 74C first. To make the Teriyaki sauce heat the following ingredients together in a medium hot pan for around 5 minutes until thickened:
350ml water
85g brown sugar 
70ml Light Soy Sauce
1 large finely chopped garlic clove
4cm piece of fresh ginger peeled and finely sliced
Finally whisk in 1 tablespoon of rice wine vinegar, along with a slurry made from 1 tablespoon of cornstarch (cornflour) plus 1 tablespoon of water. Heat for another couple of minutes until thickened, and then allow to cool.
Devilled Eggs
Devilled eggs make for a really tasty pellet grill appetizer. You can have smoked devilled eggs or just save time by hardboiling them in hot water.
Peel 10 hardboiled eggs and cut in half
Remove the yolks from the eggs with a teaspoon, place them in a bowl and mash with a fork
Add 1 tbsp mayonnaise, 1 tsp Dijon mustard, a splash of apple cider vinegar, and season with salt and pepper. Stir together until smooth.
Add the mixture back to the egg whites and sprinkle with a little smoked paprika
Optional – sprinkle with finely chopped scallions.
Stuffed Potato Skins
Stuffed jacket potatoes make for a really easy BBQ starter or side. Simply cook as many baked potatoes as you need in the oven for about 30-40 minutes at 200C or 392F until they are soft on the inside.
Scoop the insides of each potato out of the skins and place in a large bowl. Add your filling of choice (good options here include chopped cooked bacon and cheese, a mix of cheeses, sour cream and freshly chopped chives) to the bowl and mix thoroughly. Return the filling to the potato skins and return to the oven.
Cook for a further 10-15 minutes until the skins have crisped up.
You could also make smoked cheesy potatoes with some of the potato you have scooped out of the skins, by adding potato to a dish with cheese and a few simple ingredients and smoking it in your smoker for 1-2 hours.
What Starters to Serve at a BBQ?
Here are some ideas of what starters to serve at a BBQ to get you moving in the right direction:
Classic Potato Salad
Pesto Pasta Salad
Classic Buffalo Chicken Wings
Korean BBQ Chicken Wings
Teriyaki Chicken Wings
Pigs in Blankets or Bacon Wrapped Smokies
Shotgun Shells (mannicoti stuffed with meat & cheese, bacon wrapped & smoked)
Smoked Pumpkin Soup (especially during the colder months)
Homemade Coleslaw (mix things up with apple and beetroot or other veg combos)
Sour Cream & Bacon Jacket Potatoes
Any kind of smoked nuts done in your smoker (e.g. honey chipotle smoked peanuts bought or homemade)
Nachos with Sour Cream & Guacamole (add a little beef chilli or pulled pork for extra oomph)
Salty Olive Tapenade (black or green olives) with crackers or breadsticks
Crostinis (grilled ciabatta slices) with mozzarella or other cheeses, or pesto
Cocktail Sausages brushed with honey or BBQ sauce
Melon wrapped with Parma or Serrano Ham
Honey Garlic Prawn Skewers
Tortilla or Potato Chips & Dips (e.g. guacamole, sour cream and chive, Thousand Island dressing etc)
Devilled eggs
Cheese Fondue with breads or tortilla chips
Southern BBQ Appetizers
If you want to serve some Southern BBQ appetizers in particular, here are some great ideas for BBQ starters:
Creole Shrimp Skewers
Collard Greens
Cornbread
Potato Salad
Pasta Salad
Summer Salad
Cajun Fried Prawns with Old Bay seasoning
Cheesy Grits (small serving for an appetizer)
Mac and Cheese (small servings for starters)
Crispy Onion Rings
Fried Green Tomatoes
Southern Fried Chicken Strips
Jiffy Cornbread Muffins
Southern Cheese Straws
Southern Style Devilled Eggs (with Cajun spices)
Velveeta Sausage Dip
Easy Appetizers for BBQ
For some really easy appetizers for BBQ parties and events try these ideas:
Easy Cheeseburger Sliders
Quick Smoked Meatballs
Tortilla or Potato Chips & Dips e.g. sour cream and chive dips
Deep Fried Onion Rings with Sour Cream & Chive Dip
Cheesy Nachos with Salsa, Guacamole & Sour Cream
Potato Salad
Summer Salad
Collard Greens
Hot Dogs
Cheeseburger Sliders
Kid Friendly BBQ Appetizers
We all know that kids can be fussy about eating especially in the vegetable department! Here are some ideas for kid friendly BBQ appetizers:
Mac and Cheese (with hidden very finely chopped veg e.g. squash or carrot)
Sliders (mini burgers for kid sized hands)
Baked Cocktail sausages with honey and Worcestershire sauce
Hot dogs
Tortilla or Potato Chips & Dips
Fruit on skewers
Cheese & crackers
Small squares of ham sandwiches
Olives, ham, cheese on cocktail sticks (or pickled onions!)
Cold Appetizers For BBQ
You can throw these cold appetizers for BBQ together very quickly and easily to save you time, and keep your guests amused while you keep working on the mains.
Charcuterie board with your favourite meats and cheeses
Fresh veggies (e.g. sliced carrot, radish, cucumber etc) with dips
Hummus with tortilla or potato chips
Fruit salad
Selection of breads with dips (e.g. olive oil mixed with balsamic vinegar)
Green or black olives on cocktail sticks
Tomato salsa (to go on crostini or chips)
Corn and blackbean salsa
Pico De Gallo for dipping
Tapenades
Any kind of salad e.g. Salade Nicoise, Sumer Salad, Pasta Salad
For more ideas on this topic you could try The Spruce Eat's article on BBQ appetizers everyone will love.
For a related article try our best BBQ side dishes post.
You might also enjoy our pellet grill breakfast recipes article.
If you enjoyed this article or tried any of these ideas let us know in the comments below, or share it on your favourite Social Media.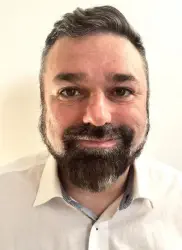 Latest posts by BBQ Smoker Grill Hub
(see all)