Barbecue doesn't have to be seasonal and for many people it isn't. With that in mind please enjoy our top 10 meats to smoke in the winter article.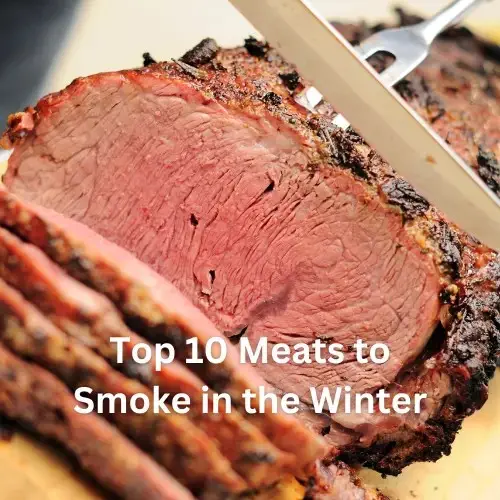 Top 10 Meats to Smoke in the Winter For Beginners and BBQ Enthusiasts
1 Smoked Whole Turkey
Turkey is always going to be one of the best meats to smoke, especially in winter and around holiday times.
For best results consider brining the turkey first for flavour and moisture. Heat the following ingredients in a medium hot pan until the salt and sugar dissolve:
3/4 cup of salt
1 cup of sugar
Cold Water to Cover the Turkey
1 Whole Stick of Cinnamon
3-4 Whole Cloves
4 Peeled Whole Garlic Cloves
A Tablespoon of Black Peppercorns
A Handful of Rosemary Leaves & Thyme sprigs
3-4 Bay Leaves
A Whole Lemon Cut in Two
A Whole Orange Cut in Two
Add ice cubes (or allow to cool) and place the turkey in the brine using a cooler or large container. Place in the fridge overnight the day before smoking.
Rinse the turkey with cold water before smoking at 225F or 107C on your smoker for 4-6 hours until the thickest part of the breast meat registers 165F or 74C. Season your turkey with your favourite BBQ seasoning all over before cooking. You can also make your own poultry by combining the ingredients below in a bowl:
1 tablespoon of coarse salt
1 tablespoon of brown sugar
1 teaspoon of smoked paprika
1 teaspoon of freshly ground black pepper
1 1/2 teaspoons of dried thyme
1 1/2 teaspoons of dried rosemary
1 teaspoon of dried sage
1/2 teaspoon of garlic powder
1/2 teaspoon of onion powder
2 Smoked Prime Rib
Prime Rib is a fantastic meat to serve at any occasion, but it is also one of the top 10 meats to smoke in the winter to serve at Thanksgiving or Christmas, or even as a knockout Sunday dinner.
Below is a summary of the whole smoking process:
Set Your Pellet Grill to 250F or 121C
Remove Any Excess Fat from Your Prime Rib (better still get your butcher to do this in advance)
Combine 5 Tablespoons of coarse salt, 5 Tablespoons of black pepper, 3 Tablespoons of finely chopped thyme leaves, 3 Tablespoons of finely chopped fresh rosemary (leaves picked) in a bowl
Rub all over your Prime Rib Roast (use mustard or oil as a binder if desired)
Insert a meat probe into the Prime Rib roast, making sure to avoid bones and big pockets of fat. Put the Prime Rib roast directly on the grills, put the lid down, and smoke until the internal temp of the meat is 120F or 49C, for medium rare which will take around 4 hours. Medium internal temperature is 125-130F or 52-54C
Take the Prime Rib off the grills and then let it rest rest for 15-20 minutes.
3 Smoked Salmon with Dill and Lemon Compound Butter
Smoked salmon fillets are great all year round as well as the winter and they are one of our favourite quick smoker recipes, making them great for beginners as well as more advanced smokers.
To make the smoked salmon BBQ rub combine the following ingredients in a bowl:
1 teaspoon ground cumin
1 tablespoon chilli powder (mild if you don't like heat)
2 tablespoons brown sugar
1 teaspoon fine sea salt
1 teaspoon freshly ground black pepper
To make the dill and lemon compound butter place 1 stick (110g) of softened butter, the zest & juice of 1 lemon, and a tablespoon of freshly chopped dill in a bowl and mix together thoroughly.
Coat the salmon fillet in the BBQ rub and then the compound butter and then smoke it in your smoker at 225F or 107C for 45 minutes to an hour until the internal temperature reaches 145F or 63C.
4 Smoked Whole Ham
Whether you serve this with turkey for a holiday meal or not ham is a classic meat to smoke in the winter or any other season. It only takes around 3 hours in the smoker altogether.
Pat the ham dry and then score the fat to make criss cross diamond like shapes in it. Cover the ham liberally in your favourite pork rub or make the homemade one below:
1/4 cup or 50g Brown Sugar
2 tbsp of Paprika
1 tbsp of Salt
2 tsp of Black Pepper
2 tsp of Garlic Powder
2 tsp of Onion Powder
1/2 tsp of Cumin
1/2 tsp of Ground Mustard
1/4 tsp of Ground Cayenne Pepper
Get your smoker up to 250F and then smoke the ham uncovered for an hour and a half. Place the ham in a disposable aluminium pan and add 2 cups of chicken stock. Cover the tray with tinfoil and put the ham back in the smoker for another hour and a half or so until the internal temperature of the meat is 140F or 60C.
Brush the finished ham with this glaze made in a medium hot pan:
½ cup cherry preserves
¼ cup brown sugar
¼ cup honey
1 tablespoon dijon mustard
5 Smoked Beef Brisket
Although beef brisket takes the longest time to smoke of any meat it just wouldn't right to not mention it as one of the top 10 meats to smoke in the winter or any time.
This simple Texan style brisket involves very few ingredients – just the following:
12 – 15 pound whole brisket a.k.a. Packer's Cut – if you can get the butcher to trim the fat off it will save you a job (although you can get your brisket untrimmed and do it yourself)
½ cup of coarse salt
½ cup of coarsely ground black pepper
4 cups of beef broth (stock)
½ cup of Worcestershire sauce
Combine the salt and black pepper in a bowl to make the Texan style seasoning, and then cover the brisket liberally with it. Get your smoker up to 250F or 121C and then place the brisket directly onto the grills. Make sure the pointy end of the brisket is pointing towards the heat.
Put the beef broth and Worcestershire sauce in a clean spray bottle and spritz the brisket with it every hour or so.
Smoke the beef with the lid down for 4-6 hours until a good bark has formed which is almost black. Wrap the brisket tightly in tinfoil or butcher's paper add a little of your spritz sauce and return to the smoker.
Cook wrapped for around 1 hour per pound. If your brisket is 12 pounds that will be approximately 12 hours.
Smoke the brisket until it reaches a final temperature of around 200F or 93C. Rest for 30 minutes or so and then cut into thin slices.
6 Smoked Pork Butt For Pulled Pork
It takes a long time to smoke a pork butt (although not as long as brisket) but its enduring popularity means that it's one of the best meats to smoke all year round including winter.
For infusing flavour and helping to retain moisture brining the pork butt overnight is a good idea. Try the easy cider brine below:
6 Cups Good Quality Apple Cider
1/2 Cup Salt
1/2 Cup Sugar
2 Cups Apple Cider Vinegar
3-4 Whole Peeled Cloves of Garlic
Optional – bunches of fresh rosemary, sage and thyme
You simply heat the ingredients in a pan until the sugar has dissolved. Leave to cool or add in ice cubes before placing your pork butt in the brine. Leave it in the fridge or in a cooler overnight the day before you want to smoke.
Combine the following ingredients in a bowl to make this pork rub (or use your own favourite one):
3 Tablespoons of Brown Sugar
2 Tablespoons of Sweet Smoked Paprika
1/2 Teaspoon of Chilli Powder (or more if you like heat)
1 Teaspoon of Onion Powder 
1 Teaspoon of Garlic Powder)
1/2 Teaspoon Cayenne Pepper
2 Teaspoons of Freshly Ground Black Pepper
1 Tablespoon of Fine Sea Salt
Run the pork butt under cold water and then pat dry. Cover the pork butt liberally with the pork rub. Preheat your smoker to 250F or 121C. Smoke the pork butt in your smoker until the internal temperature is around 160-165F or 71-74C (around 4 hours), spritzing every hour or so with apple cider vinegar.
Wrap the pork butt in butcher's paper or tinfoil and return to the smoker for another 4 hours until the internal temperature is around 203-204F or 95-96C. Pull the pork apart with 2 forks and serve in sandwiches or with the sides of your choosing.
7 Smoked Whole Chicken
Smoking a whole chicken, or better still 2 or 3 chickens is a great idea whether it's winter or summer.
The process is similar to smoking turkey although it won't take as long – around 2-3 hours.
Dust the chicken with your BBQ seasoning or make your own from the ingredients below:
1 tablespoon fine sea salt
1 tablespoon freshly ground black pepper
1 tablespoon chilli powder (increase or decrease according to heat tolerance
1 tablespoon smoked paprika
2 teaspoons garlic powder
1/2 teaspoon dried oregano
4 tablespoons brown sugar
2 teaspoons onion powder
Place the whole chicken in the smoker at 225F or 107C and smoke for 2-3 hours until the internal temperature reads 165F in the thickest part of the breast.
8 Smoked Spare Ribs 321 Method
Spare ribs are bigger and meatier than baby back pork ribs and feed more people making them a great smoking option all year round.
You can smoke the ribs using the popular 321 method which involves smoking the ribs at 225F or 107C unwrapped on the smoker grills for 3 hours to begin with. Then you wrap the ribs tightly in foil and add a little liquid (e.g. apple juice) before returning to the smoker for 2 hours. For the final hour of smoking the ribs are removed from the wrap and brushed with the sauce of your choice.
9 Smoked Tomahawk Steak
For a real showstopper of a piece of meat try smoking tomahawk steak (bone-in ribeye) this winter.
Dust the steak with your BBQ seasoning of choice or make this homemade one below:
2 tbsps light brown sugar
2 tbsps smoked paprika
3 tbsps coarse or kosher salt
3 tsps freshly cracked black pepper
1 tsp chilli powder (a little more if you like it hot)
2 tsps ground thyme
1 tsp ground rosemary
1 tsp mustard powder
Use the Reverse Sear Method and smoke the steak slow and low at 225F or 107C for 45 minutes to 1 hour to let the steak take on smoke flavour, and then turn the temperature up to 450F or 204C and sear it for a minute or two a side to get a nice bark and char on it.
10 Smoked Sausage
For a hearty winter dinner it's well worth smoking sausage. They don't take long to smoke and you can add them to casseroles, stews, jambalayas and more.
You can use your favourite variety or smoke a mix of different sausages e.g. Cumberland, Bratwurst, Chorizo, Italian sausage etc. Since they have likely already been seasoned you may not even need to add anything extra to them.
Place your sausage in the smoker for around an hour at 225F or 107C until the internal temperature reads around 165F.
Top 10 Meats to Smoke in the Winter FAQ's
What Meat is Best to Smoke for Christmas?
It's hard to beat a delicious traditional combination of smoked turkey and smoked ham for Christmas dinner. Smoked prime rib is also a great meat to smoke for Christmas although a less popular option overall.
Can You Smoke Meat in the Winter?
You certainly can smoke meat in the winter, especially if you have a well designed, sturdy wood pellet smoker that runs at a consistent temperature despite the weather.
Cheap Meats to Smoke
If you are looking for some ideas on cheap meats to smoke you could consider the following:
Chicken Leg Quarters
Chicken thighs – bone-in is cheaper than boneless
Chicken wings
Chicken drumsticks
Pork Loin Roast – bone-in is cheaper than boneless
Pork Chops
Pork Neck
Pork Cheeks
Pork Shoulder (perfect for pulled pork)
Spare ribs (less expensive than the leaner and smaller babyback ribs)
Beef Cheeks
Beef Shin
Oxtail (the tail of the cow)
Chuck steak
Chuck roast (great for pulled beef)
Feather blade or top blade steak (from the cow's shoulder)
Round steak or silverside/topside (from the hindquarters of the animal)
If you enjoyed this article feel free to share it on your favourite Social Media or tag us @bbqgrillshub.
You might also enjoy our top 10 pellet grill recipes post.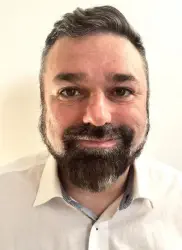 Latest posts by BBQ Smoker Grill Blog
(see all)