We'd love to share our best smoked chicken recipes with you that we have tried and tested and loved.
Chicken is such a good meat to smoke as it takes on smoke flavour so well, plus it doesn't break the bank or take as long time to cook like for example smoked brisket.
Smaller cuts such as wings, thighs and breast are smoked in no time at all and they are quick and easy smoker recipes.
In fact we happen to think that chicken is one of the best meats to smoke.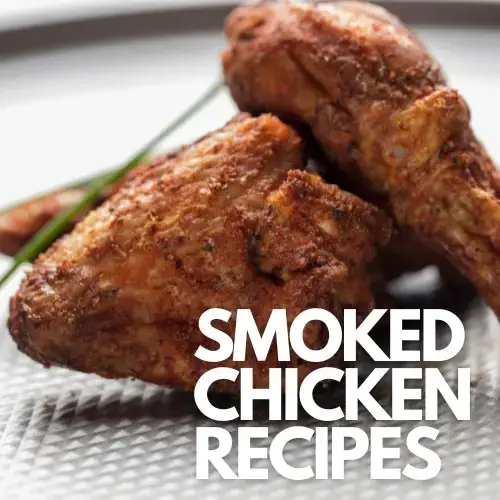 10 Best Smoked Chicken Recipes for 2023
1 Smoked Spanish Chicken Halves
Let's start with a flavour-packed smoked chicken recipe with Spanish flavours.
The chicken is halved, covered in a delicious rub, placed on top of a tray laden with potatoes and veggies and smoked at 275F (135C).
You get all the lovely flavours from the chicken running down into the vegetables sides as well as smoky tender chicken in and of itself.
You really have to try this little showstopper of a smoker recipe at least once.
Aside from the great taste and juiciness you get from the beer steaming inside the chicken, it just looks stunning.
If you really want to go all out smoke 2 chickens at the same time in your smoker.
3 Traeger Smoked Chicken Recipe
You'll love this smoked chicken recipe from the company that started wood pellet grills – Traeger.
It comes complete with a flavour packed brine, a great homemade rub, garlic, lemon, herbs and a whole lot more.
Smoked over mesquite wood this great chicken in the smoker recipe is done in 3 1/2 to 4 hours.
There's also a great guide to smoking chicken packed with lots of helpful information which links to the recipe.
https://www.traeger.com/recipes/dennis-the-prescott-whole-smoked-chicken
https://www.traeger.com/learn/how-to-smoke-whole-chicken
4 Pit Barrel Cooker Co Signature Chicken
If you haven't heard of Pit Barrel Cookers you could be missing out on a very affordable and well designed barrel smoker.
You can hang up to 6 whole chickens at one time and at the increased temperature inside the Pit Barrel cooker of 275F-310F (135-154C) your chicken will be cooked in 2-3 hours.
This smoked chicken recipe will obviously work in any smoker but Signature Chicken is Pit Barrel's unique take on smoked chicken.
https://pitbarrelcooker.com/blogs/food/signature-chicken
5 Boneless Chicken 'Wings' Recipe with Homemade Buffalo Hot Sauce
Boneless Chicken 'Wings,' are becoming more popular for those who don't like the mess and hassle of chicken wings.
They are made with chicken breast or meat from the thighs or wings or sometimes a mix, but they don't have any bone or cartilage.
This recipe also has a delicious homemade Buffalo Hot Sauce to go with your chicken.
6 Jamaican Jerk Smoked Chicken Breast
For something a wee bit out of the ordinary have a look at this video for Jerk smoked chicken breast.
We did this a few months ago on the Weber Go-Anywhere Grill setting up this portable charcoal grill as a smoker.
The chicken breast was marinated first in a mixture of garlic, onion, jerk seasoning, lime and Levi Root's Reggae Reggae BBQ Sauce.
It was really delicious, smoky and tender served with rice!
For the full recipe try below:
7 Pit Boss Smoked Chicken with Honey Glaze
This is another great smoked chicken recipe this time from grill giants Pit Boss.
Think smoky, succulent chicken with a sticky sweet glaze.
Are you salivating yet?
https://pitboss-grills.com/recipes/poultry/whole-smoked-chicken-with-honey-glaze
8 Simple Smoked Chicken Recipe
This recipe for smoked chicken is broken down step by step for beginners in particular. You have all you need here for knocking out an awesome chicken dinner.
Complete with a smoked chicken brine recipe, a tasty homemade rub, a complete guide to the process of smoking a whole chicken, and a number of FAQ's answered for you.
We like to try and be helpful!
People often forget about chicken thighs and go for chicken breasts, legs or wings instead.
Chicken thighs are cheaper and contain more fat and meat which makes them perfect for smoking.
Smoked over apple wood with delicious seasonings and BBQ sauce they are a great option for smoked chicken recipes. In terms of a side for BBQ chicken try fried rice, mashed potatoes or fries.
10 Korean Smoked Chicken Recipe
Due to the growing popularity of Korean BBQ we thought it would be a great idea to include this delicious, citrusy, spicy and salty Korean BBQ Chicken recipe from 'Chiles and Smoke.'
If you don't want to use orange, lime juice is equally good.
If you are worried about chilli heat then you can use less Gochujang paste (Korean chilli paste).
You might enjoy some more ideas and tips of smoking chicken in our article on BBQ Chicken. It's a fairly comprehensive guide on grilling and smoking chicken.
FAQ's About Smoked Chicken Recipes
What Goes Well With Smoked Chicken?
Mac and Cheese
Coleslaw
Fries
Baked or Roast Potatoes
Mash
Sweet Potato Fries
Cornbread
Roast Vegetables
Related Article – Best Sides for BBQ Chicken.
How do you Cook Already Smoked Chicken?
If your chicken has been smoked already it's probably not a good idea to cook it in the smoker. You don't want to oversmoke it or make it leathery and dry. Best to heat it in the oven.
What is the Best Way to Eat Smoked Chicken?
Smoked chicken is very versatile and delicious. It can be added to pies, pasta dishes, soups, curries, wraps, tacos, burritos, on pizza, in sliders with cheese and BBQ sauce, risottos, or curries. With so many options you can easily find what suits you best!
Related Recipes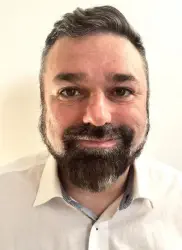 Latest posts by BBQ Smoker Grill Hub
(see all)