If you are looking for some fun things to smoke in your pellet smoker you're in the right place. Some of these smoker ideas are things to smoke that you may not have thought of, and others are more tried,tested and true.
They're all great fun though!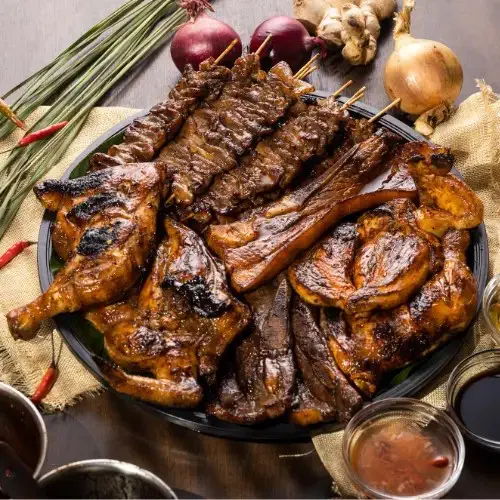 Fun Things to Smoke in Your Pellet Smoker
Smoked Cocktails
Although people often think you need a cocktail smoker to make smoked cocktails, you might be surprised that you can use your pellet smoker to infuse smoky flavour into drinks.
One way to do this is to put cold water in a pan and place it in your smoker for a while, before freezing it to make ice which you will use for cocktails. You can also smoke the fruit you will use in the cocktail (e.g. limes or oranges). For a really smoky taste you can use a smoked spirit such as a smoky Scotch or Mezcal (a smoky tequila).
You can also smoke the glass you will use for the cocktail by lighting a wood pellet or cinnamon stick and placing the glass over the top. You can see this process in our Youtube Short below.
For more on this try our best smoked cocktails recipes post.
Smoking Sauces
If you get your smoker to a temperature of 80F or 27C you can cold smoke sauces and condiments such as ketchup, mustard or our particular favourite – hot sauces such as Sriracha. If you have a favourite BBQ sauce that doesn't already have a smoke flavour then you can cold smoke it too.
Adding a tray of ice to your smoker can help to keep it at lower temperatures (you might need to replenish the ice during the smoke once or twice. Smoke at this temperature for around an hour or two.
If you find it fun to try smoking something a little different and out of the ordinary here are a few ideas you could consider:
Ostrich Steaks
Kangaroo Burgers or Steaks
Alligator or Crocodile
Smoked Goat Shoulder
Venison loin
Making and Smoking your own Sausage
Smoking a variety of different sausages at once to find out your favourites
Smoked Ice Cream (smoke the milk you will use first)
Smoked Nuts of any kind
Smoking Tomatoes for salsas, soup, smoky pizza or pasta sauce)
Smoking Bison Meat
Chilli Peppers (e.g. jalapenos) for curries and Mexican dishes
Game Birds e.g. Quail, Wild Turkey or Pheasant
Fun Things to Smoke For Beginners
If you are a beginner to smoking meat then you might find it more fun to get used to your smoker by smoking smaller cuts of food for short smoke times. Brisket takes a very long time in the smoker (up to 18 hours depending on the size and temperature you smoke at) and that leaves quite some room for error. It's an expensive cut you don't want to get wrong.
It might still be worth trying smoking pork shoulder for pulled pork however because it's one of the more easy smoker recipes for beginners, despite the long smoke. It's hard to get it wrong and not too expensive, and with all that fat it's unlikely to dry out in the smoker unless you oversmoke it.
You are some fun things to smoke for beginners that won't take you too long:
Chicken wings (try them with Teriyaki or Classic Buffalo Sauce)
Any kind of sausage (so many options!)
Steaks (smoke first for up to an hour low and slow and sear at high heat to finish)
Nuts (dust with your favourite seasonings and smoke for up to an hour)
Chicken Thighs
Chicken Breast
Pork Chops
Lamb Chops
Bacon slices (use unsmoked bacon for best results)
Mac and Cheese (only takes 1-2 hours)
Turkey Breast (usually only 2 hours or so)
For more ideas try our easy 2 hour smoker recipes article or our 1 hour smoker recipes post.
Smoked Appetizers
Appetizers are definitely fun things to smoke and usually don't take too long at all. Here are some great ideas:
Classic Buffalo Chicken Wings
Korean BBQ Chicken Wings
Teriyaki Chicken Wings
Pigs in Blankets or Bacon Wrapped Smokies
Shotgun Shells (mannicoti stuffed with meat & cheese, bacon wrapped & smoked)
Homemade Coleslaw (mix things up with apple and beetroot or other veg combos)
Sour Cream & Bacon Smoked Jacket Potatoes
Any kind of smoked nuts done in your smoker (e.g. honey chipotle smoked peanuts
Smoked Pulled Pork Nachos with Sour Cream & Guacamole
Smoked Cocktail Sausages brushed with honey or BBQ sauce
Smoked Honey Garlic Prawn Skewers
Smoked Devilled eggs
For more on the topic you could try our post on smoked appetizers.
Smoked Chicken
Chicken is always one of the quickest things to smoke, as well being one of the most popular, but it's also a fun thing to smoke in your pellet grill too.
Easy Smoked Chicken Thighs
Chicken thighs are fun to smoke and they only take about 1 1/2 to 2 hours.
Get your pellet grill up to 225F or 107C and then dust them with your favourite poultry dry rub. Smoke until the internal temperature of chicken reaches 165F or 74C in the thickest part of the meat.
Try this homemade dry rub for extra fun:
1 tablespoon freshly ground black pepper
1 tablespoon fine sea salt
1 tablespoon chilli powder
1 tablespoon smoked paprika
1/2 teaspoon dried oregano
4 tablespoons brown sugar
2 teaspoons garlic powder
2 teaspoons onion powder
Crispy Smoked Whole Chicken
Smoking a whole chicken will take 2-3 hours in your smoker to a final internal temperature of 165F or 74C in the thickest part of the breast meat.
This recipe aims to help you ensure a nice crispy skin on the chicken so it takes you through how to brine it first, and how to liberally dust the cavity and under the skin with seasonings for crispier results.
While most people often think of smoking meat in the smoker, there are plenty of other options. You can effectively smoke any food in your pellet grills including nuts, vegetables, fruit (e.g. tomatoes or a smoky tomato sauce or apples for smoked apple pie), hard cheeses, eggs, seasonings (e.g. salt or paprika), condiments such as ketchup, mustard or BBQ sauce as well as plenty more!
Although the best things to smoke in a smoker will come down to personal taste, there are definitely particular foods that are more popular than others and best for certain contexts.
The best things to smoke for a crowd, for example, will include large fatty cuts of meat that need time to break down (e.g. brisket and pork butt). Whole chickens and turkey are among the best things to smoke for Sunday or Holiday dinners when you have quite a few mouths to feed.
If you are wanting to feed a group of 4-6 then the best things to smoke for you might well be 2-3 racks or pork ribs or some beef short ribs.
What is Easy to Smoke?
In general small cuts of meat that are inexpensive and smoke quickly can be considered easy to smoke. This could include things such as steaks, fish fillets, chicken wings, thighs or breasts, turkey breast, or any type of sausages.
Pork butt for pulled pork is often considered as easy to smoke and hard to get wrong, despite the long smoke time. It's also worth considering smoking pork loin as it only takes 2-3 hours, unlike pork shoulder.
You might also like to read our what to smoke this weekend article.
If you enjoyed this article please feel free to share it on favourite Social Media, and let us know in the comments if you tried out any of the ideas.
You can follow us or tag us on Instagram using @bbqgrillshub.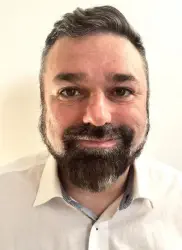 Latest posts by BBQ Smoker Grill Hub
(see all)