If you are looking for plenty of ideas and options for Ooni meat recipes then this article will provide plenty of value for you.
Although you likely bought your Ooni oven for making pizza, it's also pretty good at cooking all sorts of things at high heat, including some great Ooni meat recipes that are worth trying.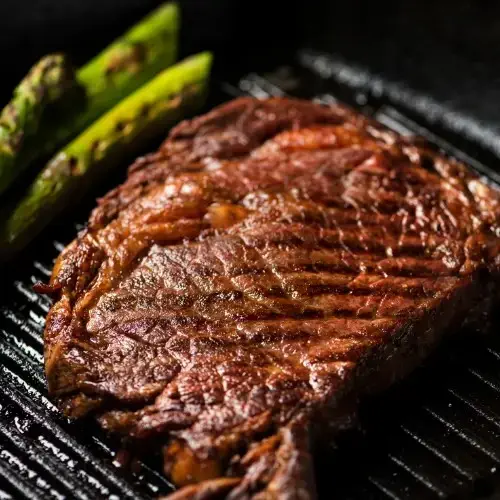 Ooni Steak Skillet Recipe
Steaks are perfect for cooking quickly at high heat which makes them a great option for Ooni meat recipes.
Preheat the skillet first in your Ooni oven with the door closed for best results. Small, tender cuts of steak such as Ribeye, Sirloin or Fillet will be the best choices for quick cooks.
Cook in the skillet for a few minutes a side until the steak reaches your preferred doneness levels – 130-140F or 54-57C for medium rare and 135-145 or 57-63C for medium.
You can watch the process in our Instagram video below.
Have a look at our Ooni cast iron recipes for more ideas on the topic.
How Long to Cook Steak in Ooni?
For a 1 inch (20mm) steak cut aim to cook for around 2-3 minutes a side at high heat in your cast iron skillet placed in the Ooni oven.
Aim for an internal temperature of 130-140F or 54-57C for medium rare and 135-145F or 57-63C for medium.
Once you have preheated your Ooni oven and skillet to 350C or 662F this recipe will come together very quickly and just take a few minutes.
For the Duck
2 Large duck legs
½ tsp of ground cinnamon
½ tsp of ground cumin
Freshly cracked black pepper, to taste
Kosher salt to taste
For the Sweet Glaze
50g of sugar
2tbsps of dry white wine
Juice of 2 oranges 
Pinch of salt
100g poultry or vegetable stock
Zest of 1 orange
1tbsp of cornflour or cornstarch
Make the glaze in a mdeuim hot pan on the hob by caramelising the sugar first and then adding the rest of the ingredients. Bring the pan to a simmer and then add some of the duck fat from your cooked legs, then brush the duck with the sweet glaze and serve.
Flame Grilled Sausage with Peppers and Onions
For another great Ooni meat recipe try this flame grilled sausage cooked in an iron skillet. Cook the sausage first for around 4 minutes a side until it reaches an internal temperature of 160F or 71C.
Next add finely chopped onions and peppers and a little oliveoil to the pan and cook until the onions and peppers have a nice char and are soft and translucent.
You can eat this as is or serve it up as a delicious sandwich.
Ooni Meat Recipes Chicken
For a really easy and quick Ooni meat recipe, try these roasted rosemary chicken thighs with onions. This recipe comes directly from Ooni themselves and it only takes a few minutes at high heat.
Once you have preheated yoour Ooni oven to around 360C or 583F, and preheated your skillet all you need to do is add your chicken thighs to the skillet to cook for a few minutes. Then turn the chicken over, baste with butter and add your fresh rosemary and red onion and roast for a few minutes more until the juice in the chicken runs clear and it is at least 165F or 74C in the thickest part of the meat.
Another quick and easy Ooni meat recipe is chicken fajitas in a cast iron skillet or Ooni grizzler plate.
Again you preheat your pan for about 10 minutes at high heat, before adding your chicken pieces, Fajita seasoning, peppers and onions to the pan. You can also cook corn on the cob directly on your Ooni stone to get a great char on it to serve with your chicken fajitas.
Serve in Fajita wraps with cheese, sour cream and optional guacamole!
Ooni Recipes Non Pizza
For some more Ooni recipes that aren't pizza try these ideas:
Smash Burgers in the Ooni (use a skillet)
Lamb or Pork Chops
Sausages
Chicken Skewers
Prawn Skewers
Focaccia Bread
Cheesy Garlic Bread
Chicken Fajitas
Fried Eggs
Full English Breakfast in the skillet
Meatballs in tomato sauce in the cast iron
Easy Ooni Pizza Recipes
If you are looking for some great outdoor pizza oven recipes and ideas try our Sicilian Style Pizza post or our Detroit Style Pizza article.
You might also like to try Ooni Deep Dish Chicago recipe as well, for something a little bit different to cook in your Ooni Oven.
You could also try our Ooni pizza dough recipe article to help get you started with pizza making in style.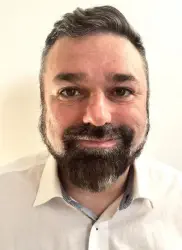 Latest posts by BBQ Smoker Grill Hub
(see all)