We are great fans of the Ooni pizza dough recipe and the Ooni pizza oven itself. Depending on how many people you have to feed, and what size and type of pizzas you want to make, it may be worth revisiting your Ooni pizza dough recipe to find the best fit for you.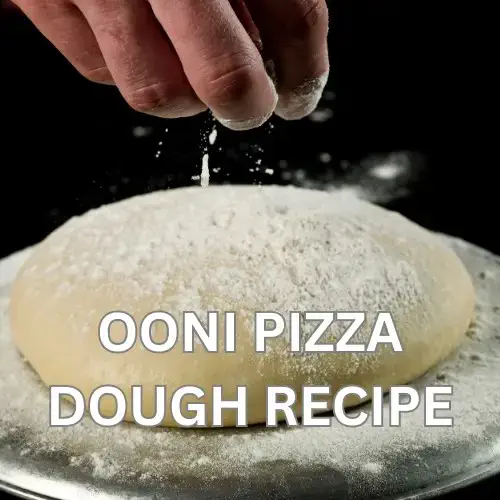 Ooni classic pizza dough on the Ooni website calls for only 4 ingredients and very specific measurements as you can see below:
12.8oz or 364g of cold water
4 tsps or 18g salt
20g fresh yeast (or 9.2g active dried yeast, or 7g instant dried yeast)
21.4oz (607g) Tipo 00 flour, plus a little extra for dusting
This will make you 4 Neapolitan style pizzas (depending on whether you want 12″ or 16″) which are designed to be cooked in 1-2 minutes at high heat. Whether you like a thin crispy base or a bigger airy crust will obviously affect how much dough you need.
We tend to prefer to hand stretch the dough when making a larger crust, and roll it out when aiming for a thin crust. As ever, people have their preferences!
It's worth considering that other styles of pizza e.g. Detroit Style Pizza, Roman Pizza, Sicilian Pizza and Chicago Deep Dish Pizza require the additional ingredient of olive oil. This makes the base a little crispier whereas Neopolitan pizza has a light, airy crust with a nice little chew to it.
Original Ooni Pizza Dough Recipe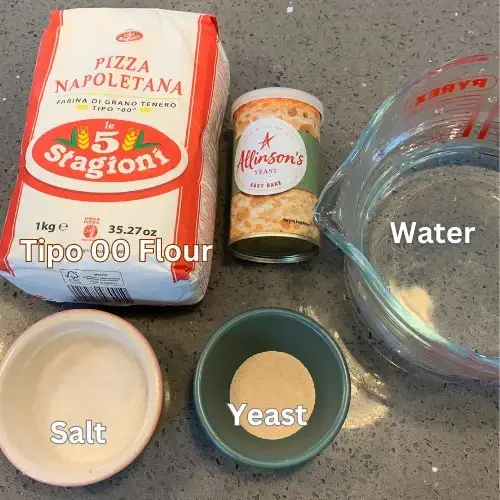 The Ooni cookbook 'Cooking with Fire,' has a slightly different approach to making classic Neopolitan pizza dough. Measurements are different but the ingredients remain the same.
300ml (1 1/4 cups) of cold water
10g (2 tsp) salt
7g fresh yeast (1/4oz) 3g active dried yeast or 2g instant dried yeast
500g (4 1/2 cups) Tipo 00 Flour
This will give you around 5 x 30cm (12″) pizzas, or 3 x 40cm (16″) pizzas.
The reason that we prefer this one is because you can easily double it so that you are using the whole 1kg bag of flour, 4 teaspoons of salt, 600ml water & around 1 teaspoon dried yeast.
This means that you are leaving yourself plenty of dough that you can prove in the fridge, (or place in the freezer) to use another time. It's also a lot easier to remember!
We eat pizza most Saturday nights (and sometimes more!) in this house so it is time efficient to make up a larger batch. If you don't eat pizza often then you can freeze leftover dough. Just remember to leave it out the day before you plan to make pizza.
Cold Proving Pizza Dough
You can definitely make your pizza dough and use it after a short proving time of around an hour, and you will get a good result.
However it's very much well worth considering that letting the dough cold prove in the fridge for up to 5 days will allow the gluten to develop, the flavour to intensify and the texture to be more stretchy and easier to work with.
If you cold proof your pizza dough in the fridge, you are slowing down the fermentation process which in turn allows the yeast to break down the sugars in the flour over a longer period.
If you are planning to cold prove your dough you won't need as much yeast – Ooni recommends you use 4.1g fresh yeast (or 1.8g active dried yeast, or 1.4g instant dried yeast) for the 607g pizza dough recipe we first looked at.
If you're really stretched for time (pun intended) then you'll like this approach to making pizza dough. Using strong bread flour will give you a slightly different result than Tipo 00 flour (it will have more volume and air holes in a 'bready' way) but it is better for a quick pizza dough because it has a higher level of gluten.
This is the Ooni quick pizza dough recipe:
480g (17oz ) warm water (40-50c)
1 tbsp (15g) active dried yeast/ 10g instant dried yeast/ 30g fresh yeast
750g (26.5oz) strong bread flour
1tbsp salt
1 ½ tbsp olive oil 
100g (3.5oz) semolina or rice flour for dusting
Making a sourdough starter from scratch isn't at all difficult (you only need to mix flour and water) but it does take time (at least 3 or 4 days). You have the option of buying a ready made mature starter to save time if you're not willing to wait.
For those who want a different and well developed experience of Ooni pizza dough try the link below.
https://ooni.com/blogs/recipes/sourdough-pizza-dough
If you are gluten intolerant, try this great Ooni recipe below:
430g warm water
17g salt
10g instant dried yeast
15g olive oil
Not all dried yeast is gluten-free so make sure you check the ingredients.
Ooni Pizza Dough Step 1 – Combine Salt, Yeast & Water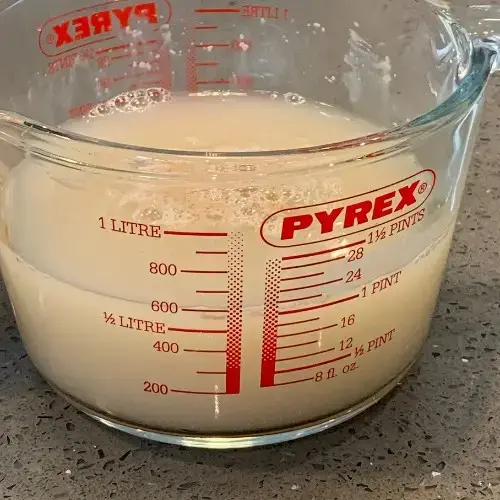 Pizza Dough Step 2 – Put the Flour in a Bowl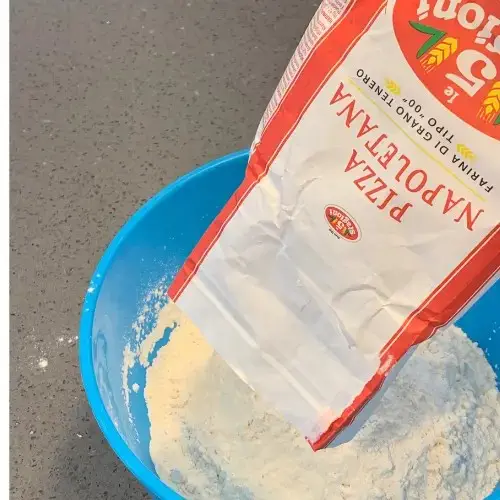 Ooni Pizza Dough Recipe Step 3 – Pour in The Water Mix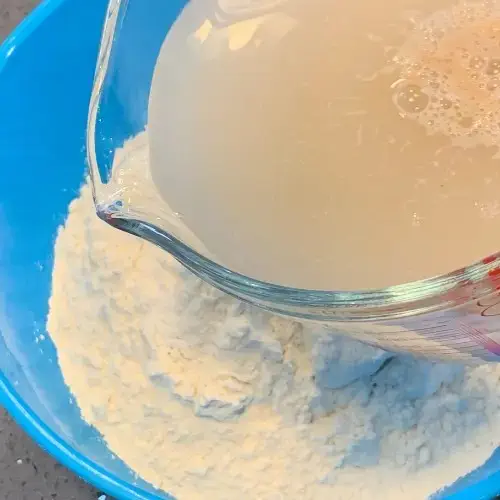 Pizza Dough Step 4 – Knead for 10 minutes & Leave to Prove
Video of kneading the dough before leaving it to prove under a damp tea towel.
Watch us roll out Ooni pizza dough for pepperoni pizza done in the Ooni pizza oven.
FAQ's About Ooni Pizza Dough
What is the Best Flour for the Ooni Pizza Oven?
If you are making Neopolitan style pizza in 1-2 minutes in your Ooni oven consider using Tipo 00 Flour for best results. The combination of high protein content and finely ground wheat is great for this style of pizza.
We recommend Caputo 00 Flour.
Does Store Bought Pizza Dough Work in the Ooni?
You can definitely use store bought pizza dough in the Ooni oven, but we think making your own is always going to taste better.
How to make Crispy Pizza Crust in the Ooni?
If you prefer a crispy pizza crust then roll your dough out rather than hand stretch it. The thinner your base is the crispier it will be. Another option would be too add olive oil to the dough which will also make it crispier.
Related Recipes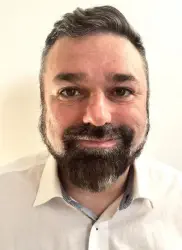 Latest posts by BBQ Smoker Grill Hub
(see all)